2023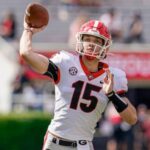 By: Kipp Branch
TheSouthernSportsEdition.com news services
In 2024 College football expands to a 12-team playoff. Here are my top 12 teams going into the Spring practice for 2023.
Georgia: Back to national champions, and 29-1 in last 30 games. Where else do you expect the champs to be ranked?
No matter who wins the starting quarterback job Carson Beck, Brock Vandagriff or Gunner Stockton, the Bulldogs will be strong on offense and have TE Brock Bowers. Defense will be nasty as always under Kirby.
Michigan: Yes, they have folded like a cheap tent in the last two college football playoffs, but this team is the established king of the Big 10, and owns Ohio State currently. The Wolverines land here.
Ohio State: Ryan Day is 45-6 but it feels like this team does not live up to its potential.
Michigan has the upper hand over Ohio State currently. Marvin Harrison Jr. is back, and he is the best WR in college football.
Alabama: Alabama is still Alabama. People need to remember this fact. Nick Saban must be stewing inside about how 2022 played out. Who will be the QB? Once that is settled then look out for this team.
LSU: The Tigers land here. Brian Kelly is an elite coach, and this team has elite talent. Alabama vs. LSU will be for the SEC West Championship.
Penn State: Drew Allar is the QB now. Nick and Kaytron Allen return at RB. Is this team ready to compete with Michigan and Ohio State for the Big 10 Championship?
Florida State: Jordan Travis is back with weapons all around him to use. Mike Norvell seems to have turned the corner in Tallahassee.
Can FSU handle the mantle of being the favorite in the ACC? We shall see.
USC: The Trojans were one win away from the CFP in 2022.
Can USC win a Pac-12 title in 2023 with Washington and Utah breathing down their necks? Team defense will provide that answer.
Washington: Michael Penix Jr. makes this team a contender and he will be a Heisman candidate.
The Pac-12 needs a team to make the CFP desperately. It has been a long drought.
Utah: The Utes are the two-time defending Pac-12 champions. This team does not get the respect it deserves. Great head coach and talented players define this program. The Utes play a physical brand of football.
Tennessee: Hendon Hooker is gone. Joe Milton is the man now in Knoxville.
Josh Heupel has done a fantastic job in a short period of time.
This time the Vols must improve on defense.
Road games at Alabama and Florida will be tough. They get UGA at home in November, which is good, but UGA has won their last three visits to Rocky Top.
Defense is going to be the key in 2023.
Oregon: Dan Lanning won ten games in year one.
Bo Nix is back.
The Pac-12 could be an extremely competitive conference this fall.
This is a dangerous football team. As with most teams out west can they play defense at a level that allows them to compete with the big boys from the SEC or Big 10?
Just on the outside looking in: Clemson, Notre Dame, TCU, Texas, Tulane, and Kansas State. Can you imagine these debates when the CFP expands to 12?
Conference Breakdown:
SEC: 4
Pac-12: 4
Big Ten: 3
ACC: 1
Spring football is just a couple of weeks away. Let the debates begin.