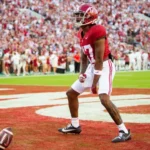 By: Robert Craft
TheSouthernSportsEdition.com news services
This is just another SEC Championship Game. The argument will be made here, probably determining whether Georgia wins their third national championship in a row.
UGA has yet to beat Alabama in the SEC championship or at Mercedes-Benz Stadium.
If Georgia beats Alabama on Saturday, they have national champion written all over them.
If Georgia loses to Alabama, there is no College Football Playoff.
Feel free to take those statements and throw them back at me next month. Say it: I'm SEC biased, or  too dependent  on recent history.
Georgia's biggest hurdle awaits them Saturday. The main reason is talent..
The most talented team in the country, per the 247Sports team talent composite, is Alabama. The third-most talented team is Ohio State.
Class, who is the last team to beat Georgia? That would be Alabama two years ago, in the SEC championship. Which team since then has come the closest? Ohio State, in last year's CFP semifinal.
The Crimson Tide are still in the Bulldogs' way. By Smart's own admission, quarterbacks who can run and throw have given Georgia's defense problems, and you might have noticed that Jalen Milroe can run and throw.
He has multiple receivers who can make plays Jermaine Burton, playing against his former team for the first time, and Isaiah Bond, the man who caught fourth-and-31 to win the Iron Bowl.
No, Georgia is not doomed. It's a modest favorite (4.5 points) for the right reasons, and the temptation in this space would be to take Georgia to cover. But it is a mere temptation, because Alabama, Saban and his talented unit are going to be a tough out.
First, of course, they need to make the Playoff, and at this point, the SEC Championship looks like win-and-in, lose-and-out.
That wasn't the case for Georgia the past two years, but this year there are too many viable candidates in other conferences. There are only four spots, and if Alabama beats Georgia it would get one of them. The Pac-12 championship will get another. The chaos scenario thus requires two of the following three: Michigan losing to Iowa, Florida State losing to Louisville, Texas losing to Oklahoma State.
We've been waiting for the chaos, and the chaos hasn't occurred yet, so it's probably time to stop waiting.
We could also get into a scenario in which Georgia loses on a late field goal or disputed call, and two of the three win in the same fashion. That's maybe when the committee finds a way to jam Georgia in.
This is a committee made of human beings who apparently think a lot of Georgia, and might also appreciate the three-peat storyline. If it's close, that would help Georgia. But it's harder and harder to see the close scenario. It's setting up to be fairly clear choices for the committee.
If someone is going to stop Georgia from a three-peat, the most likely team is the one that for the longest time was its nemesis, and could still be again.