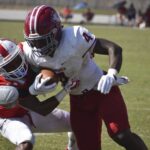 By: Kenneth Harrison
TheSouthernSportsEdition.com news services
The high school football season kicked off last week. I'm going to recap the Corky Kell Classic, which features some of the best teams around the state.
Greater Atlanta Christian 20, Denmark 0: Greater Atlanta Christian is ranked sixth in class 3A.
The defense had six interceptions, including a streak of five consecutive on five Denmark possessions. Senior cornerback, Saiku White had three of the interceptions, and Josh Williamson, Luke Field and Joseph Rose each had one.
The Spartans had a solid performance from quarterback Deymon Flemming, who was 15-of-28 for 132 yards and two touchdowns.
This was the final game of the Corky Kell Classic.
Lowndes 51, Archer 21: Lowndes is ranked second in class 7A and No. 9 nationally.
The Vikings are led by 4-star quarterback Jacurri Brown.
He went down with an apparent leg injury midway through the second quarter. The game was tied at 7.
He had a short breather and got his ankle taped before returning. He threw for 164 yards and two touchdowns, completing 50% of his passes. He also had a rushing touchdown.
Archer is ranked No. 7 in class 7A so this is a very impressive win.
Collins Hill 46, Carrolton 24: This was a matchup between 7A and 6A teams.
Carrolton is No. 4 in the state in 6A but they were no match for the Eagles.
Collins Hill forced three interceptions.
They have a junior four-star quarterback, Sam Horn. He's the No. 4 pro-style quarterback in the country for the junior class.
He was 27-of-40 passing for 364 yards, 3 touchdowns and lead an offense that gained 509 total yards of on 66 plays.
St. Pius X 38, Flower Branch 28: The Golden Lions ran 62 offensive plays and gained 430 yards. 398 yards of that offensive production came on the ground as Pius averaged seven yards per carry on 57 rushes.
Mason Benefield finished with seven carries for 46 yards and two touchdowns.
Shug Bentley had seven carries for 59 yards and a touchdown.
Paul Quigley had four carries for 38 yards and a touchdown.
Dennis O'Shea was 1-of-5 passing for 32 yards and a touchdown.
Walton 35, Kell 28: This was a battle between Cobb County schools.
The Raiders trailed 28-16 in the third quarter before making a comeback.
Zak Rozsman was 9-of-21 passing for 130 yards and a touchdown. He also rushed nine times for 49 yards and a touchdown.
Freshman quarterback Jeremy Hecklinski was 3-for-3 for 58 yards. Braylen Stokes had 15 carries for 159 yards and two touchdowns.
Kenny Djaha had nine carries for 76 yards and three receptions for 76 yards and a touchdown.
North Gwinnett 35. McEachern 7: The Bulldogs are led by four-star Clemson-commit Barrett Carter. The linebacker finished with a 7-yard touchdown run from the wildcat formation, a 79-yard interception return for a touchdown and a team-leading 10 tackles, 2.5 for a loss.
Brookwood 40, Dacula 34: This game went to four overtimes before the Broncos scored on a 1-yard touchdown run by Alexander Diggs.
Brookwood quarterback Dylan Lonergan was 28-of-43 passing for 433 yards and four touchdowns.
Denylon Morrissette had 12 receptions for 215 yards and three touchdowns.
West Forsyth 42, Mays 6: Coach Dave Svehla got the win in his first game.
He coached at Etowah from 2012-19 and had a 49-41 record there.
The Wolverines led 35-0 at halftime.
Daba Fofana carried the ball 16 times for 110 yards and two touchdowns with one touchdown reception.
Cherokee 38, Carver-Atlanta 12: The Warriors dominated and Keith Adams Jr. ran for 180 yards and 2 touchdowns.