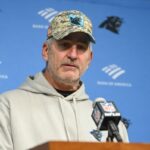 By: Kenneth Harrison
TheSouthernSportsEdition.com news services
The NFL season is still in progress and the Carolina Panthers fired head coach Frank Reich. Reich was just hired in January 2023 and he signed a four-year contract.
Reich is a former backup quarterback known for making huge comebacks before he became a coach. In 1984 he led Maryland to a victory over the No. 6 Miami Hurricanes after trailing 31 – 0 at halftime.
In January of 1993 he led the Buffalo Bills to a Wild Card playoff win over the Houston Oilers, after trailing 35 – 3 early in the third quarter.
His playing career ended in 1998 and he started coaching in 2006. Reich was the offensive coordinator for the Philadelphia Eagles from 2016-17. He helped the Eagles win Super Bowl LII, which is the first Super Bowl in franchise history.
He took over as the head coach in Indianapolis in 2018. He coached the Colts for four and a half seasons, compiling a record of 40 – 33 – 1. He was fired halfway through the 2022 season after getting off to a slow start. Indy made two playoff appearances while he was there, winning one playoff game.
It is interesting the Panthers hired him after having being barely above average for the Colts. Carolina traded up to draft Alabama quarterback Bryce Young No. 1 in the 2023 draft. They had to know this would be a tough year but it was worse than they anticipated.
Carolina is 1 – 10 and in position to have the worst record and top draft pick in 2024. That pick was traded to the Chicago Bears.
Reich was Carolina's first starting quarterback, starting the first three games for the Panthers' expansion team in 1995 and going 0 – 3 before he was replaced by rookie quarterback Kerry Collins. Reich had thought of this return to the Carolinas as a head coach as a chance to put a "magical" ending onto his 30-plus year career as an NFL player and coach.
"It was a great opportunity," Reich said. "The way the doors opened up for it was amazing. But there's not always a storybook ending…. I also take comfort and find peace and strength that there is a next chapter of my life. I do believe that. I do believe God ordains our steps."
Owner David Tepper fired him Monday, after they lost to the Tennessee Titans 17 – 10. He was fired in person by Tepper at Bank of America Stadium shortly before the news was announced.
"There's a heart-pounding disappointment in not hitting the marks that we needed to hit to keep this going and try to get it turned around," Reich said. "It hurts me for the guys, the team, the coaches and the fans."
Reich was expected to help Young develop and so far the results have not been good. The roster is also bad so that has to play a factor.
Tepper seems to be running the Panthers into the ground. Reich spoke in a press conference a few weeks ago and he spoke about Tepper's hands-on approach. I think that is going to be a problem with landing a good coach.
He purchased the Panthers in May of 2018 for $2.2 billion, the highest in NFL history and he did not have any other investors.
The best record they have had was 7 – 9 in 2018 when Ron Rivera was still the coach. He hired Matt Rhule in 2020 and he was fired after five games in 2022.
I'm not sure what the future holds for this franchise but they will be at the bottom of the NFC South for a while.