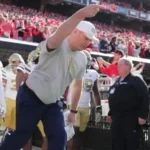 By: Kenneth Harrison
TheSouthernSportsEdition.com news services
Georgia Tech has a great athletic tradition. When I was growing up they were one of the few programs where the football team went to bowl games and the men's basketball team made the NCAA tournament consistently.
From 1997 to 2014 there was just one losing season, and even then it was because the 2010 team lost the Independence Bowl. Over the last few years that has completely changed.
The last winning season for the Yellow Jackets was in 2018. That was also Paul Johnson's final season in Atlanta.
The Geoff Collins era began after that. Collins was flashy and seemed to be more concerned with establishing a social media presence than focusing on coaching. He was fired after the team started the 2022 season 1 – 3. His overall record at Tech was 10 – 28.
Assistant head coach/offensive line coach Brent Key was named the interim head coach. He led them to a 4 – 4 record and the interim tag was taken off on November 29 as Key was named Georgia Tech's 21st head football coach.
This seems like a perfect fit to lead the program in the right direction. Key played guard at Tech from 1997 – 2000, starting all four years. The team showed significant improvement when he took over and they hope that momentum will carry over into the 2023 season.
Quarterback Jeff Simms transferred to Nebraska. He was the starter for the last three seasons. Haynes King has transferred in from Texas A&M and he is battling Zach Pyron for the starting job. King has a 3 – 4 record as a starter for the Aggies.
Wide receiver Dominick Blaylok has also transferred in from UGA. He's a former four-star recruit that has battled injuries. He tore his ACL as a freshman in 2019 and later re-injured it in 2020. Last season he caught 15 passes for 227 yards and a touchdown.
This season the Atlantic and Coastal Divisions have been eliminated. With the two-division setup gone, the top two teams will now play for the ACC Championship.
The offense should be better this season. In 2022, the Yellow Jackets had the worst passing offense in the ACC, were dead last in third down conversions, downfield passing, and tackles for loss allowed. The team scored more than 16 points just five times – those were the five wins, by the way.
The offensive line has to step up. They have four starters returning so that experience should help.
Transfer linebackers Braelen Oliver (Minnesota) and Andre White, Jr. (Texas A&M) are hard hitters that played roles for their former teams. They have a chance to be stars this season. Defensive lineman Etinosa Reuben transferred from Clemson and he will bring a physical presence to the D line.
Junior LaMiles Brooks is one of the best safeties in the ACC. Last season he had 52 tackles, three interceptions and he earned third-team all-ACC recognition in his first season as a starter.
Let's take a look at the schedule and see how this season should play out.
Wins: SC State, Bowling Green, Boston College, at Virginia
Losses: Louisville, at Ole Miss, at Wake Forest, at Miami, North Carolina, at Clemson, Syracuse, Georgia
I picked the games that should be wins for the Yellow Jackets. I think they have a chance against Louisville, Wake Forest and North Carolina. If they can win two of those games they will play in a bowl game.