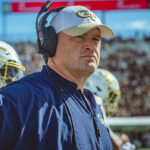 By: Garrison Ryfun
TheSouthernSportsEdition.com news services
Just before Saint Patrick's Day, Florida State and Georgia Tech announced they would play their 2024 season opener in Ireland as a part of the Aer Lingus College Football Classic.
This will be the 9th college football game played in Ireland, and one of the few times neither school playing in Ireland has had an Irish/catholic connection.
The Aer Lingus College Football Classic started in 2016 with a contest between Georgia Tech and Boston College, where the Yellow Jackets prevailed 17-14.
The Classic then took a five-season break and finally returned in Fall of 2022, with a matchup between Nebraska and Northwestern last season.
Now, The Classic seems serious about bringing a week 0 college football game to Ireland, with games set up to begin the 2023 and 2024 seasons.
Notre Dame, a more fitting brand for Ireland, is set to take on Navy to start the 2023 season at Aviva Stadium in Dublin, Ireland for The Classic.
There are pros and cons to the more increasingly common, neutral-site season openers – even ones that take place outside of the United States.
The biggest pros are for the student athletes and brand of college football in general.
The student athletes get to go and experience a different country and different culture, something many of which likely have never done in their lives.
The brand of college football also gets to be put onto display for Irish citizens, who have likely never experienced American college football in their lives.
The cons for a college football brand is losing a home game and the revenue that the local businesses around your school usually get with a home game.
In this case, the home team would have been Georgia Tech, and the game would have been played in Atlanta, Georgia.
This is one case where I do not think local businesses will be as hurt with a neutral-site game. Though there is said to be a large alumni base of Florida State graduates in the Atlanta area.
This kind of classic abroad is also done in the National Football League with five games already set to be played out of the United States in the 2023 season: with the Bills, Titans, and Jaguars playing in London and the Chiefs and Patriots both hosting games in Germany.
This is all done in an attempt to grow the brand of American Football abroad.
Something that may wind up failing, but as long as the governments of these countries continue to advocate for it – American football will be there to show off in all its glory.