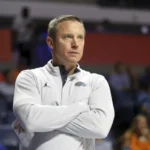 By: Kenneth Harrison
TheSouthernSportsEdition.com news services
We all know Georgia is a football school. The Bulldogs have had a tough time finding consistent success on the hardwood for men's basketball. Let's take a look at UGA and see if they can turn that around this season.
Mike White is in his second season as the head coach in Athens. He coached at archrival Florida previously from 2015 – 2022. He replaced Billy Donovan but he did not have the same level of success. His record for the Gators was 142 – 88 with four NCAA Tournament appearances.
Last season the Bulldogs went 16 – 16 in his first season. They are losing their top three scorers from last season but the team was 190th in offensive efficiency. Former four-star prospect Jabri Abdur-Rahim is the best returning player. He was the most efficient player for the Dawgs last year but he played the role of a non-creator.
Point guard Justin Hill transferred to UGA from Longwood last year. He started ten games but his offensive impact was inconsistent. He is expected to be better this season.
There are some new faces that are expected to make an impact. Senior guard Noah Thomasson played at Niagara the last two seasons. He averaged 19.5 points per game last year. We will see if he can make the jump from the MAAC to the SEC.
White brought in four freshman, all are four-star players. They are point guard Silas Demary Jr., wing Blue Cain, power forward Dylan James and wing Mari Jordan.
They also have four more transfers, headlined by seven foot senior center Russel Tchewa (South Florida).
The season opener was against Oregon in Las Vegas in the Naismith Hall of Fame Series tournament at T-Mobile Arena. The Ducks won 82 – 71. It is impressive that they fought to get this game within single digits.
"I loved the fight down the stretch," coach Mike White said after the game. "The press was really effective for us, and this is really not a pressing team. But we fought to the bitter end. If we get the 'pick 6′ at the end it could have been a little more respectable than that. But we fought to the end."
Abdur-Rahim showed new-found offensive aggression and led the Bulldogs with 18 points, including three 3s. RJ Melendez overcame a slow first-half start to finish with 12 points and Cain scored 12 and had a pair of steals in his first collegiate game.
The Dawgs shot 30 three-pointers, only making ten of them.
"I liked our spacing and I like that this team got off 30 3s. That's what this team needs to do. Sixteen turnovers was too many and we broke off our some of our execution on four or five possessions, which bled us a little," White said.
The next two games are at home against Wake Forest and North Carolina Central.
After that they travel to the Bahamas for the Baha Mar Hoops Bahamas Championship. The first game is against No. 13 Miami. Depending on the outcome the next round is against Kansas State or Providence.
I think Georgia will have another .500 season. If they do better than that I would consider it a success.