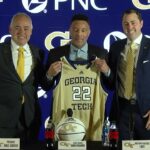 By: Kenneth Harrison
TheSouthernSportsEdition.com news services
The NBA season has started and college basketball is right around the corner.
We are going to take a look at Georgia Tech and see what we should expect this season.
Former head coach Josh Pastner was finally relieved of his duties after last season. He coached at Tech from 2016 – 2023 with a record of 109 – 114. He was replaced by Damon Stoudamire.
You might remember Mighty Mouse from his playing days. He was a point guard at Arizona and was a three-time First-team All-Pac-10 player (1993-1995). He was also Pac-10 Player of the Year (1995) and a consensus first-team All-American (1995). He was drafted No. 7 in the NBA Draft by the Toronto Raptors and he was the first player drafted by that franchise. He was the NBA Rookie of the Year in 1996.
Stoudamire played in the NBA from 1995 – 2008 for the Raptors, Trail Blazers, Grizzlies and Spurs. He has been coaching since he retired. He was an assistant coach for the Boston Celtics from 2021 – 2023. He was the head coach at the University of Pacific (2016 – 2021) and his record was 71 – 77.
I think he has done a good job of putting together a good coaching staff that consists of veteran and young coaches.
"I'm excited about the people we've been able to bring in to this program," said Stoudamire. "This is a versatile group, and it's a youthful group. I wanted some younger guys for the most part, but we do have some experience on the staff as well. I like the diversity, I like the different basketball minds that we have. We have a mixture of college and pro backgrounds that will serve us well."
Karl Hobbs was a great hire. He was the associate head coach at Rutgers from 2016 – 2023. He was the head coach at George Washington (2001 – 2010) and he was an assistant at UConn for two separate stints.
Terry Parker, Pershin Williams and Nate Babcock were also hired. He also hired his former Portland teammate, Bonzi Wells.
The Yellow Jackets return their leading scorer, junior guard Miles Kelly. The 6'6 Stone Mountain native averaged 14.4 points per game last season. They also have returning players Dallan Coleman, Kyle Sturdivant and Lance Terry.
A transfer player expected to make a big impact is big man Tyzhaun Claude. Last season at Western Carolina he averaged 15.4 ppg and 8.6 rebounds per game. They also have transfer point guard Amaree Abram (Ole Miss) and small forward Kowacie Reeves (Florida), who have major upside.
Tech has only made the NCAA Tournament once since the 2009-10 season so the program is trying to change that.
At ACC media day Stoudamire was asked what his goals were this season:
"You know what, I haven't made any goals. Honestly, I don't know what a successful season looks like, but I do know this, I think this team is just going to keep getting better and better. I can see it. It's probably the first team that I've ever been a part of where the offense is ahead of the defense."
The season begins November 6, at home against Georgia Southern. They have two more home games after that, against Howard and UMass Lowell. They should get off to a fast start.
I do not expect them to make the NCAA Tournament this season but I think their record will be around .500.