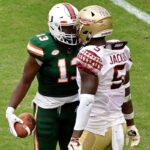 By: Garrison Ryfun
TheSouthernSportsEdition.com news services
With the ACC going division-less in 2023, the championship will now be played by the top two teams in the conference, instead of the winners of each division.
Since the conference is going division-less, teams will now play what is described as a 3-5-5 schedule.
This means that from at least 2023 to 2026, ACC teams will have three primary opponents and a rotation of the other ten teams in the conference.
The ACC guarantees that through this new scheduling format, each team will have a home and away game against all 13 other teams in this four-year window.
Though not all that common, this will prevent a championship game played by a 7-5 or 6-6 winner of either the Coastal or Atlantic division.
Once again, the divisions will not exist anymore but every team will be locked into three specific opponents.
Here are the primary opponents for each team in the ACC:
Boston College: Miami (FL), Pittsburgh, and Syracuse
Clemson: Florida State, Georgia Tech, and NC State
Duke: North Carolina, NC State, and Wake Forest
Florida State: Clemson, Miami, and Syracuse
Georgia Tech: Clemson, Louisville, and Wake Forest
Louisville: Georgia Tech, Miami (FL), and Virginia
Miami (FL): Boston College, Florida State, and Louisville
North Carolina: Duke, North Carolina, and Virginia
NC State: Clemson, Duke, and North Carolina
Pittsburgh: Boston College, Syracuse, and Virginia Tech
Syracuse: Boston College, Florida State, and Pittsburgh
Virginia: Louisville, North Carolina, and Virginia Tech
Virginia Tech: Pittsburgh, Virginia, and Wake Forest
Wake Forest: Duke, Georgia Tech, and Virginia Tech
Notre Dame, though not an official member of the conference for football, will still play their contractually obligated five ACC opponents under this new system.
This move just makes sense for the health of the conference.
In the upcoming age of super conferences, with Texas and Oklahoma moving to the SEC and USC and UCLA making their move to the Big Ten, having the two best teams in your conference title game will only help with national perception for the top of your conference.
It will already be hard enough to convince teams like Florida State and Clemson to not look elsewhere during this era. Super conferences will only create more revenue, especially in the television space for their member teams.
This is a step forward, albeit small, for the conference, and could give fans some fun in-season rematches in the championship game for years to come.
The biggest problem the ACC has left is figuring out how to navigate college football in this upcoming era.
Convincing Notre Dame, whose contract with NBC expires in 2025, and another high-profile team to join the conference is the next big step the ACC has to take to remain relevant in the football space.