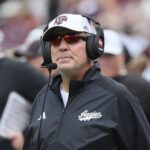 By: Robert Craft
TheSouthernSportsEdition.com news services
After Florida State's win on Saturday, I wrote that FSU fans should never, ever dismiss rivalry wins. Especially when playing for so much, a loss would be devastating .
10-0 is pretty darn sweet. Even more when considering the last five or six years and THOSE challenges.
Which builds me a bridge to what happened in College Station on Sunday:
And let's be clear, I'm not here to kick dirt on Jimbo Fisher while he's down. Well, maybe not a wheelbarrow's worth. It's hard to refer to someone getting paid $75 million to not work as 'down'.  That sounds pretty up to me all things considered.
FSU fans remember and appreciate Jimbo's run he had and the program he rebuilt in Tallahassee for about a decade. That 2013 team was one of the best in the history of the sport. He won three straight ACC championships and coached in five straight New Year's Six bowl games.
For a time, Jimbo Fisher was a fantastic coach. He modernized a program that was in desperate need. Fisher's accomplishments can never be overlooked, but what Jimbo never realized is he needed Florida State as much as Florida State needed Jimbo.
Fisher complained so much during his time in Tallahassee about what he wanted, about how hard it was to get things done or built or paid for or- At the end of his time there, he never came close to appreciating how great his job was.
He intimated repeatedly that Florida State wasn't committed to winning. Which is, in today's football, laughable.
He needed more resources. More money. More stuff. More. More. More.
Then he went to a place that has more than anyone. Jimbo fell on his face. Meanwhile, six years later, the place that isn't committed to winning is 10-0 and ranked in the Top 4.
I truly wonder, on a day like Sunday if it ever hits Jimbo how completely idiotic a decision it was to leave Tallahassee to go coach in the talent wasteland in College Station.
I get it. His bank account has a bunch of extra zeroes now. He's got all the ranches he could ever want.
For a dude that seemed so competitive, that just loves ball, loves coaching ball, loves winning, he absolutely torpedoed his chances at multiple championships and a lasting legacy because he was too busy whining about what he didn't have.
Florida State was a punchline for a few years. Even Texas A&M fans, whose program hasn't won a national title since Bobby Bowden was a 10-year-old boy, had the audacity to make fun of FSU's plight.
Texas A&M's savior, the one that Florida State fans warned them about, just got canned. Aggies, welcome to the punchline, you still owe Jimbo the GDP of a small country to go away.
Meanwhile, the Seminoles are  10-0 and two wins away from a perfect regular season.
Florida State has always been a special and dominant brand. Coach Norvell has re-established that.
No one is laughing at the Seminoles anymore.