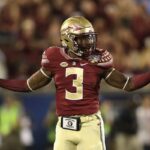 By: Robert Craft
TheSouthernSportsEdition.com news services
In a talk that generated headlines across the ACC, Florida State Seminole athletic director Michael Alford pointed out the difference in projected conference revenue between the ACC, the Big Ten, and SEC once their new media rights deals begin.
It's true, FSU does not have a viable escape route anytime soon. In the Texas/OU and USC/UCLA cases, the schools waited to leave until their leagues' Grant of Rights were up. (Two Big 12 schools have since negotiated an early exit.)
The ACC's deal goes another 13 years. In that board meeting, FSU's general counsel threw out $120 million as a cost to leave the ACC, but as best I can tell, that's just the league's exit fee.
The cost to buy back more than a decade's worth of your own TV rights from the conference would be exponentially more.
It's been suggested that FSU and Clemson (or others) could challenge the Grant of Rights in court, but contracts that deal with millions of dollars tend to be pretty ironclad. If they weren't, someone would have challenged one already.
FSU, as well as Clemson, are posturing for unequal revenue sharing, under the premise they bring more value than the other 12 schools, the implicit threat is lingering: if you don't pay us, we'll leave eventually.
This story is similar to USC's decade of largely behind-the-scenes grumbling, but this time the other schools have no short-term incentive to agree to it. The best case the pair could make might be,
"We're your conference's best hope of winning a national championship in football. The 12-team Playoff Model is expected to be more performance-based than presently, if a big money team like Clemson or FSU wins three games in the playoffs en route to the 2026 national title, everyone reaps benefits."
I don't think anyone wants to take in less money than they are currently making. The question is one of leverage. Do Florida State, Clemson and others have actual leverage in today's negotiations?
They're locked into a deal with the ACC through 2036 that could cost more than $300 million to break between just exit fees and the grant of rights.
If those schools do not have offers in hand to join the Big Ten or the SEC, can they really force the rest of the conference to acquiesce on this?
For what it's worth, I'm not sure shuffling around a few million dollars per year actually closes the revenue gaps Alford was talking about with his board.
If FSU gets, say, $5 million more per year than it does now, does that actually close the gap it's staring down with powerhouses like Georgia? Or is this more of a philosophical conversation?
The ACC should be thinking externally, not internally, and figuring a way to generate more revenue, because soon their schools are going to be sharing it with their athletes
I see the anxiety and hear the chatter from FSU fans every day. Everyone's worried about revenue, stratification and falling behind. So it may help fans to hear your leaders fighting for more. But I'm also not sure there's going to be enough of a force to force real change.
My two cents: Though I do recommend making some effort to keep your marquee programs happy, FSU does not have much leverage here. You're talking about a "threat" that might not come to fruition for more than a decade, by which point the sport's traditional conference model could be abandoned entirely.
Who knows what will happen in 13 years' time, programs can only plan for the near future.