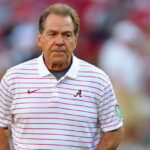 By: Kipp Branch
TheSouthernSportsEdition.com news services
After a couple of weeks into the 2023 season. There are signs that the SEC may be down in football in 2023. There will be plenty of time to reverse that perception, but as of today here are my SEC Tier rankings so far for 2023.
TIER ONE:
1 – Georgia: Georgia is the gold standard in the SEC currently. Two cupcakes disposed of so far with SEC opener this week against South Carolina. If UGA drops a couple of games will the SEC even be represented in the College Football Playoff this season?
2 – LSU: The loss to FSU was awful, but who else goes into this spot right now? LSU is talented and should regroup in time for the Alabama game to be for the SEC West title.
Can Brian Kelly get it done in Baton Rouge? LSU's history says yes, but Brian Kelly's history says no. We'll see soon.
3 – Alabama: Physically whipped on the fronts by Texas who may end up being great, but warning signs are there if you are an Alabama fan.
Don't close the door on Nick Saban. This is still a very talented and proud football program which makes them dangerous for the rest of this season.
TIER TWO:
4 — Texas A&M: The loss to Miami puts Jimbo on the hot seat. No reason this talented roster should stink the way they do.
A&M has a $77 million dollar quandary on their hands. If Jimbo is fired, they must pay that huge buy-out. Alabama comes to College Station this fall.
5 – Tennessee: Is Joe Milton really that guy? A struggle with Austin Peay raised questions about the Vols as they head to Gainesville, which has been a house of horrors for Tennessee for a long time. Vols have lost 9 straight there and have not won there since 2003.
6- Ole Miss: Big Road win at Tulane, and Alabama coming up soon will tell us all we need to know about Ole Miss.
Ole Miss has an experienced OL and a solid run game with Lane calling the plays. Division play is ending after 2023 in the SEC. Ole Miss has never represented the West in Atlanta for the SEC title game. Now or never Rebs.
TIER THREE:
7 – Missouri: I like this defense. A team you don't want to sleep on.
8 – Arkansas: Are you buying the Razorback hype? I'm not this team is about to get exposed in SEC play.
9 – Auburn: This is the lowest you'll see this team in the power rankings right now. Moving forward Hugh Freeze will have Auburn in the elite status in 2024 and beyond.
10 – Kentucky:  N.C. State transfer Devin Leary is all the hype at quarterback. They are effective at what they do, which is to bore the hell out of you.
TIER FOUR:
11 – South Carolina: Expectations exceed talent and depth. 9 sacks surrendered against UNC is a huge warning sign going into SEC play.
12 – Mississippi State: This team has a lot of unknowns, which is why they land here in their traditional spot in rankings like these. Historic bottom feeder.
13 – Florida: Gators have a schedule that can get a coach fired. Florida has fired a lot of coaches lately.
Billy Napier can recruit Florida out of this, but he needs time.
Statement game against Tennessee this weekend. The Utah game was bad. This team looks talented on defense.
14 – Vanderbilt: Vandy's destiny is here. It is their birthright. Hopefully one day they can climb out of here.