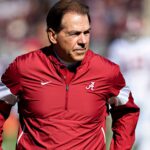 Kipp Branch
TheSouthernSportsEdition.com news services
The 2022 College Football season is in the books. Kirby Smart and UGA have won back-to-back National Titles. My annual SEC Football stock report is upon us again.
Stock Keys:
Buy
Sell
Hold
Georgia: The best college football stock on the planet. CEO Kirby Smart has developed a winning organizational culture.
401K plan is the best in the business, and the best employees are recruited year in and year out.
The executive management team is the best in the business and well compensated.
This organization is built for any market and will flourish even during down economic times. Blue blood stock that will make you tons of money. The long-term future of this stock is through the roof. Advice: Buy it all.
Alabama: Over a 10-year period this stock has been the most consistent producer of wealth.
CEO Nick Saban is still the king of CEO's.
Maybe the stock dipped slightly in 2022, but the long-term future is bright.
Top rated employer with the most talented work force make this stock very attractive.
The CEO training program is the best I the country. The executive management team has become a little complacent over the past 12 months and that has been addressed by the CEO.
This stock will always make you a ton of money. Advice: Buy as much as you can.
Tennessee: This historically producing stock crashed over the past 15 years.
However, in 2022 this stock hit a 20-year high. CEO Josh Huepel has been a breath of fresh air after a string of poor CEO's dating back to 2008.
If you held on to this stock during the bleak years, then you are a wise investor. This stock will continue to rise to get back to the glory years of the Clinton Presidency.
When the Big Orange stock is producing the SEC portfolio is second to none. Advice: Buy
LSU: After reaching an all-time high in 2019 this blue blood stock crashed over the past two years prompting the board of directors to hire a new CEO in Brian Kelly for 2022.
The early returns have been great. Stock has performed much better than expected.
Changes were made in the human resources department resulting in an influx of topflight employees for 2023 and beyond.
This corporation has invested properly for long-term growth once again. Advice: Buy
Mississippi State: This stock made a huge turnaround over the past 24 months. The tragic loss of beloved CEO Mike Leach has made things difficult over the past month.
Leach leaves behind a great foundation that is positioned for continued growth, and his legacy will live on. Rest easy Pirate. Advice: Buy
South Carolina: This stock made a remarkable turnaround late in calendar year 2022 and recovered from some tough early losses by performing well against superior brands Tennessee and Clemson.
Energetic CEO in Shane Beamer has the stockholders optimistic but not totally convinced to invest great sums of money.
This corporation has excited its stockholders before, and returns have not matched investment. Watch this stock closely in 2023. Advice: Hold for now.
Ole Miss: Aggressive CEO Kiffin takes too many chances and this has become a roller-coaster stock. Exciting to watch but for investors nerve-wracking. This is a high anxiety stock. Advice: Hold and never become emotionally invested in stock.
Florida: This stock should be a solid producer. New CEO Billy Napier inherited a horrible organizational culture.
Mass firings have taken place. Lazy employees have bailed for the transfer portal employment agency.
It will take some time to fix this mess. 401K plan is depleted and new hires are backing out causing this once proud organization to take massive public relations hits.
Advice: Sell it all until the board of directors allows CEO Napier to completely blow up this rotten culture.
Auburn, Texas A&M, Missouri, Arkansas, Kentucky and Vanderbilt: These poorly run or non-productive organizations are not worth the ink to write about.
Advice: Sell them off quickly. Watch Auburn and Texas A&M for future reinvestment.