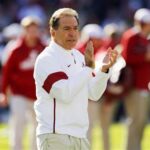 By: Robert Craft
TheSouthernSportsEdition.com news services
The SEC's conference scheduling movement received some insight Thursday on  the 2024 season. Here's what you need to know.
The SEC is not adding a ninth game, at least not yet: It will go with a stopgap solution of an eight-game schedule in 2024, when Oklahoma and Texas join the league, with a decision yet to come on a long-term format.
Keeping eight games in 2024 is more a reflection of not having the votes to go to nine, sources in the conference said, and athletic programs are holding out with hope that an ESPN deal will increase the payout to the SEC in exchange for going to nine.
In the meantime, the 2024 schedule is a stopgap. The exact matchups will be revealed on June 14 in an SEC Network special. It will preserve traditional rivalries, Sankey said.
He didn't confirm whether that means Texas and Texas A&M will meet in 2024, along with Auburn-Georgia and Alabama -Tennessee, but strongly hinted at it.
The SEC is keeping a requirement that every team must play at least one non-conference game from another Power 5 conference (or Notre Dame) for the 2024 season, but the requirement could end up being dropped if the SEC goes to a nine-game schedule in 2025.
Divisions will be eliminated, as expected, with the top two teams in the 16-team standings will make the SEC championship.
The decision on a long-term format remains between the 3-6 format (three permanent opponents and rotate the other six) or 1-7 format (one permanent opponent and rotate the other seven). And a decision on that could be made soon.
The conference has been debating the schedule for more than a year, and the nine-game format was considered the heavy favorite. But enough resistance emerged over the past few months, and there weren't enough votes for either the nine-game format or eight-game format on a long-term basis this week at SEC meetings. So the conference went with this solution.
Lack of media money from ESPN still appears to be the main consideration for SEC programs.
Georgia president Jere Morehead has consistently pointed to that, first saying last September: "We have to see, if we go to a nine-game schedule, is that going to provide an opportunity to renegotiate the contracts with ESPN and the like? What we negotiated now was an eight-game schedule."
All this, according to the two-time defending national championship coach, is ridiculous. "The most overrated conversation there ever was," Georgia's Kirby Smart said.
ESPN and the SEC agreed to a 10-year contract in December 2020, prior to Oklahoma and Texas joining the conference. The contract included a pro rate clause where ESPN would pay a basic amount more if it added any new teams.
The SEC was hoping, perhaps assuming, that because it added Oklahoma and Texas, along with a ninth game, it would be more. ESPN/Disney is dealing with layoffs and other uncertainty. They have not made that commitment yet.