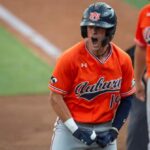 By: Kipp Branch
TheSouthernSportsEdition.com news services
One of the underrated sporting events in the country starts today and ends on June 27th.
It is the College World Series. The field looks balanced this year with no clear favorite after Tennessee, the self-proclaimed greatest team of all-time, choked at home in the Super Regionals losing to Notre Dame in grand fashion.
The field includes four SEC teams and two others, Oklahoma and Texas, who will be joining the SEC by 2025.
The SEC is dominant in most sports these days. The College World Series is played annually in Omaha, Nebraska. There should be plenty of SEC chants going on over the next 10 days. The CWS is a double-elimination tournament.
2022 COLLEGE WORLD SERIES Round 1
All Times Eastern
Friday, June 17
Oklahoma vs #5 Texas A&M 2 pm ESPN: A match-up of two SEC teams. One current and one in future in Oklahoma.
This was a huge rivalry when A&M was in the Big 12 so these programs are familiar with each other.
In his first year at Texas A&M head coach Jim Schlossnagle has reached the College World Series. He took TCU to Omaha five times in his 18 years at TCU. The Aggies are hot currently, so give me Texas A&M in this contest.
Notre Dame vs #9 Texas 7 pm ESPN: This should be a great contest. Texas lost game one in the Supers at East Carolina. Then come back and walked off with a win in game two and blew ECU out in game three to earn a trip to Omaha.
The Longhorns hit the long-ball frequently and will be a tough out in the CWS. Notre Dame, like I mentioned earlier, is riding high after beating Tennessee in Knoxville to earn a berth.
This is a tough gritty team that is dangerous in an environment like Omaha.
Give me Texas in this contest because the Longhorns have made the CWS field 38 times since the inception of the CWS.
The 2022 tournament marks the 75th playing of the CWS. Texas has been there more than half of the time. No other program has more than 25 appearances. Give me Texas in this match-up.
Saturday, June 18
Arkansas vs #2 Stanford 2 pm ESPN: Stanford always has good pitching, and this year is no exception. Arkansas was the Top overall seed in 2021 and did not make the CWS but went to Chapel Hill and beat a tough North Carolina team in three games to earn a spot in 2022.
Arkansas is peaking at the right time. Watch out for the Hogs. Give me Arkansas in this game.
Ole Miss vs #14 Auburn 7 pm ESPN2: Ole Miss may be the hottest team in college baseball right now. They were Preseason #1 that slumped badly in the middle of the season, only to get hot at tourney time.
The Rebels were the one of the last teams (probably last) selected to the field of 64 and have gone on a run and won a Super in Hattiesburg by sweeping Southern Miss and not giving up a run.
Auburn got sent to Corvallis, Oregon for a Super Regional and beat Oregon State.
Auburn has been a major surprise in 2022. The Tigers have a good power packed line-up. The SEC goes head-to-head in this one. Give me Ole Miss in this contest.
Teams with deep pitching staffs will rise to the top during the tourney. When it is all said and done, here is how I see it playing out:
Bracket One:
Notre Dame
Oklahoma
Texas
Texas A&M
Winner: Texas
Bracket Two:
Arkansas
Auburn
Ole Miss
Stanford
Winner: Arkansas
College WS Final:
Arkansas vs Texas
Winner: Arkansas
Arkansas is your 2022 National Baseball Champions.