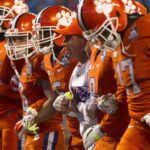 By: Robert Craft
TheSouthernSportsEdition.com news services
The SEC and Big Ten (right now) don't want to expand and steal someone from the ACC or Pac-12, both commissioners Greg Sankey and Tony Petitti have stated that publicly.
The potential implosion of the ACC or Pac-12 might change that. If the Pac-12 collapses or big names like North Carolina, Florida State, Clemson and the like find a way out of the ACC Grant of Rights, the Big Ten and SEC would be concerned about the other scooping up another big market name, and that changes the dynamic.
Sankey has maintained that the SEC only added Texas/Oklahoma because the schools approached the conference and SEC would have been foolish to pass. (And yes, Notre Dame is the only obvious TV additive right now if you're the SEC or Big Ten, sorry).
If I'm the ACC, increasing my value is top priority, therefore I wouldn't fall far behind the Big Ten and the SEC, and keep it that way until at least the end of the decade. Smart conferences will already find new revenue streams in a new and ever-evolving market.
Would a smart conference stay in contact with the Pac-12? Would some sort of scheduling alliance or partnership be available? An eye on the Pac-12; if anyone follows Colorado out the door, it could lead to total collapse.
Already, Florida State, Clemson and others have made it clear that they believe they deserve more (money). Do they see themselves  splitting the pie by another four slices?  Is it evenly shared? Probably not. Could you do a tiered revenue split and add a western wing? I know things are never as simple as they sound on paper, but I'd explore any option to preserve the brightest future for the program.
Of course, there is always the possibility that someone challenges the ACC's grant of rights and tries to exit the league. Florida State has a virtual board of trustees meeting soon.
The Seminoles would have to give notice of their withdrawal from the ACC by Aug. 15 in order to compete in a new league by fall 2024 (where would they go? How much is the exit fee?).
If the ACC breaks open, we'll have a different conversation. The ACC could keep its current membership and become an aggressor in the media profit landscape if 1) they want a fight; and 2) they don't open up an escape for FSU or Clemson or anyone to get out of the grant of rights.
The ACC corner of realignment is the most intriguing off-field action. The more I watch, the more questions surface. The result of this conflict will set the tone and trajectory for the future of a historically competitive conference.