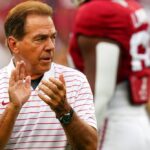 By: Kipp Branch
TheSouthernSportsEdition.com news services
Alabama has played three of the top four offenses in the SEC this season. They held all 3 teams to only 10 points in the 2nd half.
Teams played, SEC ranked O and 2nd half points scored:
LSU: 7
Ole Miss: 3
Tennessee: 0
Also, the Bammer offense outscored these 3 teams 66-10 in the 2nd half of those contests. How many of you wrote Alabama off after their loss to Texas? This football season shows why Nick Saban is the best coach in college football and reinforces the fact that he is the best college football coach of all time.
He has taken this current Alabama team, replaced a Heisman QB with a QB that simply has great running ability and turned them into the scariest team in the SEC.
Alabama is now imposing their will on other teams like well, like Alabama. They are big, fast, and physical and don't make a lot of mistakes. Also, Alabama is still recruiting as well as any team in the country.
I frequently watch the SEC Network and my wife defines frequently as every single day.
All offseason the narrative has been that Nick Saban is on the decline. Alabama is not what they used to be. The talking heads on the ESPN family of networks wrote Nick off.
After the Texas loss there were should Saban retire narratives.
Ole Miss, Texas A&M, and Tennessee wilted in the second half trying to match up with Alabama.
Alabama is going to the SEC Championship game in early December, and it appears the Georgia Bulldogs and Kirby Smart will be the opponent.
Yes, UGA is back-to-back national champions and going for a third straight, which is a feat that has not been accomplished since the 1930's.
Well, Alabama was going for a 3-peat in 2013 then the "Kick Six" happened at Auburn.
The Saban era at Alabama was the best run-in college football history with six national championships in twelve years (2009-2021).
The problem with that statement is that the run is not over. If Alabama can beat Kentucky which they will, a paycheck opponent, and Auburn then they are an SEC title game win away from being back in the playoffs.
Then I ask who wants to play the Crimson Tide right now? If you look at the current roster Alabama is not up to Alabama standards under Saban at QB, RB, WR, OL, DL, and LB. Yet, despite those facts Alabama is putting themselves into a position to compete for another national title.
Alabama may again be the best team in the SEC, and Saban is the architect of it.
Saban is the greatest coach in college football history. Next time his team looks like it's taken a step back, fans should keep their traps shut before using the word "retirement."
It appears that GOAT has been taking notes of his premature demise and has produced one of his greatest coaching jobs ever. The Tide looked like a middle of the pack SEC team after the Texas and South Florida games, but a transformation has taken place since then.
The 2023 Alabama team is not one of the greatest in school history, but the grit and determination this team displays makes their head coach proud. When your head coach is the GOAT then that is quite an accomplishment.
Once again, the Tide is rolling right into Atlanta with a College Football Playoff berth at stake. Nick Saban and Alabama will have a say in the matter.