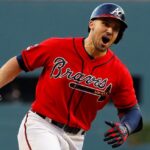 By: Buck Blanz
TheSouthernSportsEdition.com news services
It is July 10th, and the Atlanta Braves (43-44) are playing the Miami Marlins (38-50).
Jazz Chisholm Jr. hits a ball into deep right field off Max Fried in the bottom of the 5th inning with Acuna Jr. tracking the ball in right field. Acuna leaps at the right field wall and lands awkwardly resulting in a season ending ACL tear for the Braves perennial MVP candidate.
I think I am speaking for all Braves fans when I say that the Acuna injury seemed to be the moment to write the Braves off for the 2021 season as they were struggling to stay at .500% in a less than thrilling NL East race.
However, Braves General Manager, Alex Anthopoulos, and the rest of the organization thought differently and it's turning out to be one of the best developing MLB storylines of the season.
Just about the only positive thing about Acuna's injury for the Braves was the fact it happened before the MLB trade deadline, allowing the Braves to revamp their struggling outfield.
The Braves began their acquisitions by getting Joc Pederson from the Cubs on July 16th and proceeded to add Jorge Soler from the Royals, Eddie Rosario from Cleveland, and retrieved Adam Duvall from the Marlins all on July 30th.
These trades looked good when they were made and are seemingly only appearing to get better as they've helped completely turn the Braves struggling season around.
Perhaps the best thing to come out of this was the fact that the Braves were able to make these moves without jeopardizing their future in salary space.
Bringing Adam Duvall back to Atlanta is proving to be one of the best moves of the year, not just at the deadline, as he currently leads the National League in RBIs.
Pederson, Rosario, and Soler have all put together many solid outings as well as making a few clutch plays late in games since arriving in Atlanta.
Not many people thought much of the Braves after the way the first half of the season looked, however, the main point of consistency throughout the season has been the Braves infield.
Freeman, Albies, Swanson, and Riley are each having career years, and each infielder has reached the 25+ home run mark on the season making them the second infield in MLB history to ever accomplish such a feat.
This new Braves outfield has helped this year's injury riddled team turn the corner, turning a four-game division deficit into a division lead.
I have a feeling that this division title might be a little sweeter than years past and as we all know, anything can happen in the postseason.