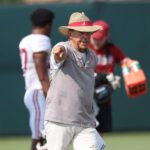 By: Jason Bishop
TheSouthernSportsEdition.com news services
Many have argued that Alabama has been replaced by the University of Georgia at the top of the College Football World. Facts are facts, and Georgia has been the National Champion the last two seasons. As a matter of fact, the Bulldogs knocked off the Crimson Tide on their way to winning their first national title.
That still does not diminish what Alabama is; the Crimson Tide are still among the teams to beat and in most years you must beat Alabama to win a National Title.
The Crimson Tide are coming off of a sub-par 2022 season by Alabama standards. That includes a 2-loss season, which had them ranked 5th in the country. Most teams would love to have that season. However, in Tuscaloosa, that doesn't cut it.
The Crimson Tide's biggest concern for 2023 is the QB position. Head Coach Nick Saban and his staff have not had a QB issue in over a decade. Bryce Young, Tua, Hurts, Mac Jones, McElroy, John Parker-Wilson, etc…..all names that have given Bama stability at the QB spot in the past.
For now, it looks like Coach Saban will go with Jalen Milroe as his signal caller. It is pretty apparent that Saban does not have a lot of faith in an of the QBs in the roster so you will likely see Ty Simpson and transfer Ty Buchner at some point this season too.
Unlike Georgia's 2023 schedule, Alabama's schedule is not a cake walk.
Sept 2 Middle Tennessee: The Blue Raiders take a trip to Tuscaloosa to serve as tune up for the Crimson Tide and it will be just that. Alabama wins 56-7.
September 9 Texas: The Longhorns will return the trip to Tuscaloosa. This soon is a matchup we will see on a more frequent basis with Texas joining the SEC. This will be a great game. Bama has a better roster. Both teams have questions at QB. Texas will start Ohio State transfer Quinn Ewers. Ewers has yet to throw a pass at the collegiate level. Give me Alabama 17-16.
September 16 @ South Florida: The Crimson Tide will be riding high off their tough win over Texas and will struggle on the road against the Bulls. In the end, USF doesn't have enough playmakers to beat Bama and the Crimson Tide survive an upset scare early. 24-21
September 23 Ole Miss: I don't ever see a circumstance where Nick Saban will allow himself to lose to a Lane Kiffin coached team, much less at home. Bama is ready for the Rebels and make an example of them. 30-17
September 30 @ Mississippi State: This will be your typical Alabama/Mississippi State game. Alabama big. 42-14
October 7 @ Texas A&M: Jimbo Fisher is sitting squarely on the hot seat and needs to win some big games in the conference to maintain his job with the Aggies. This will be close and the Aggies give the Tide a scare. Alabama survives. 27-21.
October 14 Arkansas: Nick Saban pushed his players through a tough week of practice following the upset scare to Texas A&M and Alabama comes out and plays their best game of the year against Arkansas. 56-17.
October 21 Tennessee: Alabama has had this game circled since last season and will be looking for revenge against Volunteers….not just for the loss Tennessee handed Alabama, but for Bama having to hear 'Rocky Top' played 250 times. Hendon Hooker is gone for the Vols, but Tennessee's roster pretty good. Even with a step back at QB for UT, their QB situation is still better than Bama's. The Vols beat Alabama in Tuscaloosa, 31-23.
November 4 LSU: After the loss to UT, this game becomes a must get for the Tide in order to win the SEC West. Unfortunately, for the Alabama faithful they will be handed their second straight loss at home. This loss gives LSU the inside track to Atlanta.
November 11 @Kentucky: The Wildcats are a pretty decent football team and Commonwealth Stadium will be rocking. Kentucky and their fans will see Alabama limping in and smell blood in the water. Too bad for the Wildcats, that Alabama will be looking to make a statement against them. Bama 35-10.
November 18 Chattanooga: The Mocs will come into Bryant-Denney Stadium to serve as a warm up for the Iron Bowl the following week. Alabama 62-21.
November 25 @ Auburn: Alabama will come into the Iron Bowl with an outside shot of making the College Football Playoff. The Tide will need an impressive win over Auburn to have a shot. They will get just that over first year coach Hugh Freeze and a rebuilding Tiger team that will be no match for their rival. Bama 48-10.
The Tide will once again finish 10-2 and be on the outside of the College Football Playoff looking in. Once again the Tide will fall to UT and LSU. And once again we will see Nick Saban go on National TV and beg the playoff committee to let them in.