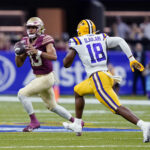 By: Garrison Ryfun
TheSouthernSportsEdition.com news services
At the end of the first transfer period, two teams stand at the top of the transfer portal recruiting rankings according to 247Sports: LSU and Florida State.
Florida State and LSU started the season last year in a Sunday night thriller that ended with an extra point blocked by FSU.
Since that 24-23 win, both teams went on to have great regular seasons and both wound up winning a bowl sponsored by Cheez-It in Orlando. (LSU winning the Cheez-It Citrus Bowl and FSU winning the Cheez-It Bowl).
In an exciting week 1 rematch to start the 2023 season, both teams will pick up where they left off – in Orlando, at Camping World Stadium.
This neutral site matchup is sure to be another classic opening weekend game, with the winner having a great resume-building win for the final four-team playoff in 2023.
But how did these teams, who started the year unranked in 2022, become likely two preseason top ten teams? Good coaching and the transfer portal.
Names like Jayden Daniels for LSU or Jared Verse for FSU, both helped elevate the ceiling of the programs they transferred into in 2022.
Now heading into the 2023 season, with Florida State and LSU sitting on top of the transfer recruiting rankings let's see who they brought in through the portal:
LSU:
Aaron Anderson (WR) from Alabama
Paris Shand (Edge) from Arizona
Jalen Lee (DL) from Florida
Bradyn Swinson (Edge) from Oregon
Denver Harris (CB) from Texas A&M
Jordan Jefferson (DL) from West Virginia
Zy Alexander (CB) from Southeastern Lousiana
Darian Chestnut (CB) from Syracuse
Jakailin Johnson (CB) from Ohio State
Ovie Oghofu (LB) from Texas
Omar Speights (LB) from Oregon State
LSU went hard after defensive lineman and cornerbacks, grabbing four of each during this cycle to help shore up holes. They also were able to grab a stud linebacker in Omar Speights to have in tandem with rising star Harold Perkins.
FSU:
Darrell Jackson (DL) from Miami (Fl)
Jaheim Bell (TE) from South Carolina
Kyle Morelock (TE) from Shorter University
Casey Roddick (IOL) from Colorado
Jeremiah Byers (OT) from UTEP
Keiondre Jones (IOL) from Auburn
Braden Fiske (DL) from Western Michigan
Fentrell Cypress (CB) from Virginia
Gilber Edmond (DE) from South Carolina
Tyler Keltner (K) from ETSU
FSU looked to add the lines of scrimmage, adding three offensive and three defensive linemen to their roster.
They were also able to plug a big hole at tight end, by bringing in two athletic college standouts.
They were able to secure the commitment from a transfer kicker, creating a competition there this offseason.
Finally, the biggest get for their class was likely Fentrell Cypress, a shutdown corner from Virginia – a piece the Noles have been missing since 2021.
In an age when questions are being asked about the sustainability of transfer portal recruiting, and whether or not it's possible to win a championship with schools taking ten or more transfers a year – Florida State and LSU, teams using this newer model, will likely start the 2023 season in a top ten matchup that can have serious playoff implications.