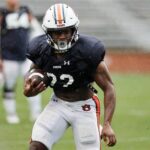 By: Garrison Ryfun
TheSouthernSportsEdition.com news services
On Monday last week, Hugh Freeze pitched the idea of playing a scrimmage in the Spring against another school: "Allow us to scrimmage somebody on a day." Bringing up the attention and revenue it could bring, the decrease in risk of injury for both schools, and the benefits to seeing your guys in action against a different group of players.
Freeze even mentioned going against in-state teams like Troy, UAB, or Alabama State, to which new UAB Head Coach Trent Dilfer responded saying: "Pretty, pretty, pretty, pretty please." He saw the benefits of live competition between teams and perceived it to be a benefit for his team as well. Dilfer mentioned the benefits of scrimmaging a team that is seen as superior to yours. Troy Head Coach Jon Sumrall was also on board with the idea saying: "I wouldn't have a problem with it. I'd go play."
This is not the first time the idea of scrimmaging against another school has come up in college football.
Dabo Swinney publicly pitched the idea in 2012, with then Michigan Head Coach Brady Hoke publicly jumping on the train not long after. If this is such a popular move with Head Coaches across the sport, then why haven't we seen it up for vote already?
David Cutcliffe, former Duke Head Coach, lays it out well in this 2012 quote: "That's an old idea, that's a good idea, but that's very difficult to get the NCAA to move in those regards. Your best chance is if you can prove you can make some money, because then you have a chance for the presidents and the ADs to vote in favor of it."
At the end of the day college football is a business, while it may benefit the coaches to see other teams in live competition with their own, if it doesn't generate decent revenue then it is likely dead-on arrival for any vote. Something I am sure coaches have thought about in their pitches behind closed doors, but you do not see a lot of in past public pitches for the idea.
Which is why Hugh Freeze's pitch makes a lot of sense, it may ultimately come to nothing but he is hitting the right chords. The focus on scrimmaging with a more local university, making the organization easier and less costly.  The revenue that an in-state scrimmage could drive in for both Alabama and Auburn; Hugh Freeze understands what the pitch has to be if anything will come out of it.
It is a similar pitch to one Mike Gundy made in the spring of 2021, where he pitched a spring game against Arkansas.
Once again, his public comments did not really hit on the revenue generating aspect of the conversation, and it likely went nowhere because of it.
Other coaches, like Mike Norvell, said they were open to the idea during conferences this week. Could there be another major push for spring scrimmages against other schools?
One of the other major roadblocks is that while most major college football coaches seem on board with the idea, there were some pretty powerful dissenters to the push in 2012, namely Nick Saban and Bob Stoops.
The former is now a coach in the XFL, and the latter has adapted and changed his philosophy with his style of offense in more recent years.
Could Saban, and more importantly Presidents and ADs, come around to the idea, or will this die down for another decade before another push happens again?