ACC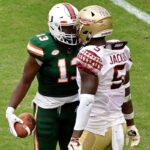 By: Garrison Ryfun
TheSouthernSportsEdition.com news services
With the ACC going division-less in 2023, the championship will now be played by the top two teams in the conference, instead of the winners of each division.
Since the conference is going division-less, teams will now play what is described as a 3-5-5 schedule.
This means that from at least 2023 to 2026, ACC teams will have three primary opponents and a rotation of the other ten teams in the conference.
The ACC guarantees that through this new scheduling format, each team will have a home and away game against all 13 other teams in this four-year window.
Though not all that common, this will prevent a championship game played by a 7-5 or 6-6 winner of either the Coastal or Atlantic division.
Once again, the divisions will not exist anymore but every team will be locked into three specific opponents.
Here are the primary opponents for each team in the ACC:
Boston College: Miami (FL), Pittsburgh, and Syracuse
Clemson: Florida State, Georgia Tech, and NC State
Duke: North Carolina, NC State, and Wake Forest
Florida State: Clemson, Miami, and Syracuse
Georgia Tech: Clemson, Louisville, and Wake Forest
Louisville: Georgia Tech, Miami (FL), and Virginia
Miami (FL): Boston College, Florida State, and Louisville
North Carolina: Duke, North Carolina, and Virginia
NC State: Clemson, Duke, and North Carolina
Pittsburgh: Boston College, Syracuse, and Virginia Tech
Syracuse: Boston College, Florida State, and Pittsburgh
Virginia: Louisville, North Carolina, and Virginia Tech
Virginia Tech: Pittsburgh, Virginia, and Wake Forest
Wake Forest: Duke, Georgia Tech, and Virginia Tech
Notre Dame, though not an official member of the conference for football, will still play their contractually obligated five ACC opponents under this new system.
This move just makes sense for the health of the conference.
In the upcoming age of super conferences, with Texas and Oklahoma moving to the SEC and USC and UCLA making their move to the Big Ten, having the two best teams in your conference title game will only help with national perception for the top of your conference.
It will already be hard enough to convince teams like Florida State and Clemson to not look elsewhere during this era. Super conferences will only create more revenue, especially in the television space for their member teams.
This is a step forward, albeit small, for the conference, and could give fans some fun in-season rematches in the championship game for years to come.
The biggest problem the ACC has left is figuring out how to navigate college football in this upcoming era.
Convincing Notre Dame, whose contract with NBC expires in 2025, and another high-profile team to join the conference is the next big step the ACC has to take to remain relevant in the football space.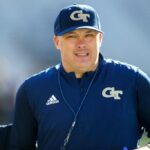 By: Kenneth Harrison
TheSouthernSportsEdition.com news services
We are getting closer to the start of the 2022 football season.
Let's take a look at the ACC Coastal Division and predict the final standings.
#7 Duke 3-9 (0-8 ACC): The Blue Devils struggled in 2021. Head coach David Cutcliffe is now gone and former Texas A&M defensive coordinator Mike Elko has taken over.
The offense averaged 14.9 points per game in conference play last season. They lost quarterback Gunnar Holmberg and leading receiver Jake Bobo to the transfer portal and running back Mataeo Durant (1,241 yards) departed for the NFL.
The defense allowed 46.6 ppg and 7.1 yards per play in ACC games.
#6 Georgia Tech 3-9 (2-6 ACC): Head coach Geoff Collins is 9 – 25 over the last three years. The roster only returns four starters and the non-conference opponents are Ole Miss, UCF and Georgia.
Tech lost two offensive pieces in quarterback Jordan Yates, who transferred out, and running back Jahmyr Gibbs, who left for Alabama.
Jeff Sims returns at quarterback after passing for 12 TDs and 7 picks, but there isn't a ton to work with around him moving the ball.
Drastic improvement is needed for the defense that has ranked 13th or worse in the ACC in points allowed in each of Collins' three years at the helm. The offense averaged 24 ppg last season, which was third worst in the ACC.
#5 Virginia 6-6 (4-4 ACC): The Cavaliers will be led by first-year head coach Tony Elliott.
He previously served as a coach at Clemson from 2011 – 2021, most recently as associate head coach, offensive coordinator, tight ends coach and running backs coach. He has learned a lot from Dabo Swinney, which should mean good things for UVA.
Elliott inherits one of the ACC's top quarterbacks (Brennan Armstrong) and receiving corps (Billy Kemp IV, Dontayvion Wicks, Keytaon Thompson and Lavel Davis). Armstrong led all Power 5 quarterbacks by averaging 427.3 total yards a game last fall.
They need to establish balance in the running game and take some of the pressure off of him. They lost all five offensive line starters.
#4 Virginia Tech 6-7 (4-4 ACC): Brent Pry takes over as the head coach in Blacksburg. Pry was the defensive coordinator at Penn State from 2016 – 2021. His experience should help make an impact immediately for the Hokies defense that's returning seven starters. They held opponents to 25.3 ppg but only had 16 sacks in ACC play.
Transfer quarterbacks Grant Wells (Marshall) and Jason Brown (South Carolina) are battling for the starting job.
#3 North Carolina 6-7 (3-5 ACC): The Tar Heels lost QB Sam Howell, four offensive line starters and the bulk of the rushing attack.
Coach Mack Brown recruits well and a couple of good recruiting classes should make the difference.
Talented redshirt freshman Drake Maye will battle Jacolby Criswell for the starting quarterback job.
#2 Pitt 11-3 (7-1 ACC): The Panthers shocked everyone by winning the ACC last year. QB Kenny Pickett and receiver Jordan Addison are major losses.
USC transfer Kedon Slovis should win the quarterback job. They have a solid stable of running backs and the defense returns seven starters.
#1 Miami 7-5 (5-3 ACC): Mario Cristobal left Oregon to take the head coach job at his alma mater.
He hired Josh Gattis as offensive coordinator. Gattis led Michigan to the College Football Playoffs last season.
QB Tyler Van Dyke returns after throwing for almost 3,000 yards, 25 TD's and 6 interceptions. He had seven games without a turnover and the U went 5-2.
The O line returns three starters, including All-America candidate Zion Nelson.