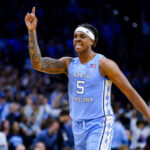 By: Kenneth Harrison
TheSouthernSportsEdition.com news services
This is my favorite time of year. Not just because of the holidays, but we have several sports going on simultaneously.
Football, basketball and hockey being played means there's a game to watch every night. We're going to preview the ranked ACC basketball teams.
#1 North Carolina: The Tar Heels advanced to the national championship game last season. It was the first season as the head coach for Hubert Davis. They return their best player, senior forward/center Armando Bacot. He leads the team in scoring (22 PPG) and rebounds (7.5 RPG).
Junior guard Caleb Love is second in scoring with 21 PPG, 6 RPG and 3 assists per game.
UNC is the rare blue blood program in this era that relies on upper classmen. Teams like Duke, Kentucky and Kansas rely on one-and-done players.
The schedule has been weak so far, but starting on Thanksgiving the Heels will play the Phil Knight Invitational tournament in Portland. The first game is against Portland. Villanova, #25 UConn, Iowa State, Oregon, Michigan State and Alabama are also in the tournament.
After this they play at Indiana before conference play begins.
I expect UNC to get back to the Final Four.
#7 Duke: The Blue Devils got to the Final Four last season but were beaten by archrival North Carolina. They rely on star freshmen players and this season is no different.
They had the top recruiting class of 2022 with four five-star players and two four-star.
Dereck Lively II is a 7'1 center and No. 1 recruit in the class. Small forward Dariq Whitehead (6'6) is the No. 2 recruit in the class of 2022.
Center Kyle Filipowski (6'11) add depth and length at the position. He was also the No. 4 recruit in the nation. So far, he leads the team in rebounds with 11 per game.
Power forward Mark Mitchell (6'8) rounds out the five-star players. He leads the team in scoring with 15.5 PPG.
Last season was Jon Scheyer's first as head coach in Durham. It has not slowed down their ability to recruit.
Duke has a blockbuster matchup against #6 Kansas in Indianapolis November 15th. After that they have a couple of easy home games against Delaware and Bellarmine.
This is where we enter parallel universe territory. They also play in a Thanksgiving tournament in Oregon named after Nike's co-founder. The Phil Knight Legacy tournament begins with a game against Oregon State. Florida, #2 Gonzaga, Purdue, West Virginia and Xavier are also in the tournament.
It's hard to tell how young players will develop but they have a tough schedule that will answer that question.
#16 Virginia: It is hard to believe the ACC only has three ranked teams. I have to mention the shooting on the UVA recently, where three football players and two students were injured.
The home game November 14 against Northern Iowa was cancelled because of that.
The Cavaliers are scheduled to play in the Continental Tire Main Event tournament in Las Vegas later this week.
They will play #5 Baylor in the first game. They will face #8 UCLA or #19 Illinois in the following game. They play at #20 Michigan to end the month of November in the ACC/Big Ten Challenge.
Senior guard Armaan Franklin leads the team with 14.5 PPG and makes 53% of his shots.
I think Virginia can go deep in the NCAA Tournament.