ACC Basketball Update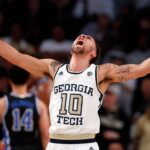 By: Kenneth Harrison
TheSouthernSportsEdition.com news services
As you all know 2020 was a year like we've never seen in our lifetime. Everything was affected by the global pandemic, including sports.
We're going to take a look at the current state of the ACC up to this point.
The two blue blood programs, Duke and North Carolina are both unranked for the first time since 1982.
The only undefeated team in conference play is Virginia (9-2, 5-0). The Cavaliers are the highest rated team in the ACC, ranked 13th. When is the last time the first-place team in this conference wasn't in the top 10?
Right now, UVA is the most consistent team and they play great defense. Senior forward Sam Hauser is the team leader in points per game and rebounds per game with 13.8 and 7.5.
#16 Virginia Tech (11-2, 5-1) is in second place. The lone conference loss was at Louisville 73 – 71.
The Hokies don't play their archrival until January 30th. If they can get past Boston College, Syracuse and Notre Dame before that then that game will be for control of the conference. Junior forward Keve Aluma is the best player on the team with 14.8 ppg and 7.3 rpg.
Florida State (8-2, 4-1) is one of the most dangerous teams in the country. The Seminoles are full of tall and athletic playmakers.
They recently beat Louisville on the road 78 – 65. That was only the second conference loss for the Cardinals so that is an impressive win. I'm not sure how FSU is not ranked.
Pitt (7-2, 3-1) may have the best player in the conference. Sophomore forward Justin Champagnie is averaging 18.7 ppg and 12.9 rpg.
They've had three games against Duke, Florida State and Georgia Tech postponed. The lone conference loss was against Louisville. We're going to learn a lot about the Panthers soon when they play Duke this week.
It's surprising that Duke is the fifth ranked team in the conference. The Blue Devils (5-3, 3-1) rely heavily on talented freshmen and they are having a hard time adjusting.
They have had five games cancelled or postponed so they lost valuable time to gain experience. All three loses were to ranked teams: #8 Michigan State, #6 Illinois and #20 Virginia Tech.
I think this is a pretty good team and that will show as the season progresses.
Georgia Tech (5-2, 2-1) has to be the most surprising team. The Yellow Jackets have had four games postponed or cancelled.
They lost to Georgia State, Mercer and FSU.
The next four games are against Clemson, Virginia, Duke and FSU. I think Tech's record is inflated and they'll come back down to earth after that.
#20 Clemson is 8th in the ACC but nationally ranked above several teams in front of them.
The Tigers (9-2, 3-2) lost to UVA and Virginia Tech.
The team's leading scorer, Aamir Simms only averages 11.6 ppg. I think Clemson is a decent team, but they are not a contender.
North Carolina is coming off of a disappointing 2019-20 season. The Tar Heels (8-5, 3-3) are following that trend this season.
The next five games are against Wake Forest, NC State, Pitt, Clemson and Duke. They need to win four of those games to position themselves to make the NCAA Tournament.
They lack talent so I don't think it's possible. Armando Bacot leads the team with 11.2 ppg.
NC State, Miami, Syracuse, Notre Dame, Boston College and Wake Forest are the remaining teams. These teams do not have a chance to get in the NCAA Tournament.