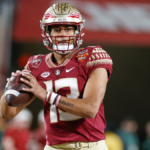 By: Garrison Ryfun
TheSouthernSportsEdition.com news services
Excitement is in the air in Tallahassee, Florida.
For the first time since 2017, Florida State is ranked in the preseason top ten.
Everything seems to be coming together for the Seminoles to have the breakout season they want to have in 2023.
It helps that Florida State has 87% of its production returning, #1 in the country according to ESPN.
It also helps that FSU brought in some highly coveted transfers to plug in holes, the #6 Transfer class in the country according to 247Sports.
How does this Florida State team perform in 2023? Let's take a closer look at each phase of the game.
Offense: This should be the strength of this team that is returning starters like Jordan Travis, Johnny Wilson, and Trey Benson.
Last season Jordan Travis went 226/353 (64%) for 3214 yards 24 touchdowns and 5 interceptions. One of the biggest improvements season over season that I have ever seen at quarterback.
Trey Benson and Johnny Wilson both had breakout seasons after transferring to FSU.
Trey Benson, transferring in from Oregon, carried the ball 154 times for 990 yards and 9 TDs. Johnny Wilson, standing at 6'7″ 237lbs, had 43 catches for 897 yards and 5 touchdowns.
Both had adversity to overcome. Benson had a bad knee injury while at Oregon and Johnny Wilson had major drop issues while at Arizona State. Benson and Wilson, who defenses had issues stopping last year, are now going to be paired alongside even more weapons in 2023.
Enter Jaheim Bell, Keon Coleman, and Winston Wright.
Jaheim Bell, from Valdosta, transfers in from South Carolina and brings elite athleticism and tons of versatility to the FSU offense. Bell not only played tight end at South Carolina, but he was also deployed at running back last season after some injuries piled up.
Keon Coleman, transferring from Michigan State, had 58 catches for 798 yards and 7 touchdowns. Standing at 6'4, Coleman provides another long target for Jordan Travis to throw to and has really turned heads this fall camp.
Winston Wright is more your prototypical slot receiver, who sadly broke his leg last offseason in a car accident that was not his fault. Will he be back to his pre-injury self in 2023? If so, defenses will have a tough time guarding.
The offensive line should be the deepest it has been since 2013/2014 for Florida State, with at least eight guys still battling for starting spots right now: Jeremiah Byers, Bless Harris, Robert Scott, Maurice Smith, D'Mitri Emmanuel, Casey Roddick, Keiondre Jones, and Darius Washington. Some combo of those names will be the starting five.
I expect Florida State to have a top five offense when it is all said and done.
Defense: The defensive line will be the most talented group on this defense. The starting four of Jared Verse, Fabien Lovett, Braden Fiske, and Patrick Payton will give nightmares to opposing quarterbacks.
Jared Verse may be the best recruiting job Mike Norvell did in 2022, getting a guy who would have been drafted to come back and continue his development speaks volumes for this program.
The linebacker tandem of Tatum Bethune and Kalen Deloach is the most solid set of starters FSU has had in a long time, though the depth behind them is almost nonexistent.
DJ Lundy will be the next man up at the linebacker position and is also the starting fullback when FSU uses one on offense.
The defensive back room, now coached by Patrick Surtain, has not been publicly solidified starter-wise, but there are plenty of impressive options that FSU has to choose from. At cornerback, one starter will likely be All-ACC selection Fentrell Cypress who transferred in from Virginia.
Others fighting for spots at the other corner spot and nickel position are Renardo Green, Azareye'h Thomas, Jarrian Jones, and Greedy Vance Jr.
At the safety position returning starter Akeem Dent comes back while Shyheim Brown and Kevin Knowles battle for playing time at the other safety spot, and they will both likely play a lot this season.
I expect this defense to once again improve year over year under defensive coordinator Adam Fuller.
Special Teams: After struggling with kicking the last few years, FSU has a kicking competition going between Ryan Fitzgerald, from Colquitt County, and transfer Tyler Keltner. If the Seminoles want to win big this year they need a consistent kicker.
Punter Alex Mastromanno returns for his final season averaging 42.7 yards per punt in his career.
Conclusion: I am projecting FSU to go 11-1, with a loss to Clemson, in the new division-less ACC putting up big numbers on offense and setting up a pivotal ACC Championship game this December.