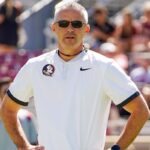 By: Robert Craft
TheSouthernSportsEdition.com news services
I've gone on record multiple times saying Norvell is a not very good coach.
He is a poor evaluator of talent with an average offensive mind. I think his energy and intensity are admirable and contagious, however he appears to be a poor recruiter when compared to his successful predecessors.
Having said all that, I don't think it's an exaggeration to say these next six games will determine Norvell's future at FSU.
After losing two games in a row, the Seminoles are 4-2 and can still finish with a much-improved season. Saying that, there's very little margin for error moving forward.
If the Seminoles fall to No. 4 Clemson this Saturday (they're only a 4 to 4.5-point underdog), they must win at least three of those five for this season for their season to feel like a step in the right direction for the program.
Anything better than 3 wins will promote eight or more wins for the season, and that would give them a ton of momentum heading into recruiting season.
Anything worse will feel like treading water at best, and that's not a good place to be for 3 years.
To finish strong, FSU must get back to playing the way they did in weeks one through four. Other than Louisiana, sure fire wins are looking slim on the schedule.
Florida and Miami are arch rivals with plenty of talent, so you know those will be hard-fought games.
Looking closely in the ACC, Syracuse is one of 2022's biggest surprises with a 5-0 record.
We will learn plenty about the Orange in the next two weeks, as they face N.C. State and Clemson back-to-back.
Georgia Tech is now showing major improvement since firing head coach Geoff Collins; the Jackets have won their last two games to improve to 3-3 and 2-1 in the ACC. With this in mind, will FSU take the backseat in CFB and become a basketball school once and for all?
Getting back on track, after blowing a 14-point lead in the second half at N.C. State, the Seminoles return home for No. 4 Clemson this Saturday.
Can the Seminoles turn things around after back-to-back losses? Can Travis and the offense get back on track and get moving? Last week, Norvell again took full responsibility for the loss by the way.
Football coaches who accept full responsibility for losses are usually stand-up guys. Coaches who accept full responsibility for losses again and again and again are known as former coaches.
The 4-0 start was great. Realistically, it won't be remembered if their performance this second half of this season looks like these last two weeks. They'll be remembered as a dumpster fire.
Clemson and FSU had one of the top rivalries in the ACC for years, but it seems one-sided recently.
The Clemson Tigers have won six in a row between the two programs, including a 30-20 home win last season.
Clemson is trending up, showing improvement each week. FSU is trending… in the opposite direction.
Clemson 34   FSU 23