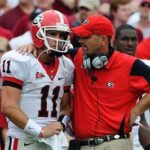 By: Robert Craft
TheSouthernSportsEdition.com news services
Todd Monken is no longer in Athens, headed back to the NFL ranks to join the Baltimore Ravens after leading Georgia's offense for three seasons.
Mike Bobo is stepping into the role as offensive coordinator after having served as an analyst for the Bulldogs this past season and a quite well-traveled past before that, much of which took place in Athens.
What's old is new again, with Bobo's promotion to offensive coordinator being announced. There were two other options for Smart to go in replacing Monken, and each had its upside but also a downside.
Look outside the program. Smart may have operated quietly behind the scenes, the same way he did with Monken after the 2019 season for James Coley's job. There may not have been a home-run hire available: Look at the trouble Nick Saban had finding a new offensive coordinator before landing Tommy Rees, who had an uneven and inconsistent past with his years at Notre Dame. Now, Notre Dame is having trouble finding a replacement for Tommy Rees.
Sources report that Monken played a big role in Bobo being named offensive coordinator.
Monken and Smart had more than one conversation about Bobo and his contributions in 2022, and Bobo was a big part of the game planning each week.
This isn't to say Georgia has upgraded or downgraded, just because Bobo's past two stints in the SEC didn't go well. It's best to label it a lateral move for the program, because fans still harbor reservations about Bobo's early years at Georgia.
It took time before he grew into his position and became cutting-edge. For some reason, there's a perception he was a run-first coordinator, but Georgia passed 57 percent of the time in 2011 and 2012, following 50-50 in 2013, then run-heavy in 2014 when it had the triumvirate of Todd Gurley, Nick Chubb and Sony Michel.
Were there play-calling mistakes during the Bobo era? Sure (feel free to bring up not giving the ball to Gurley at the goal line in 2014 against South Carolina, even though Georgia scored on a goal-line pass earlier in the game).
Does being a good fit make Bobo the right hire? There are no guarantees; in the position that Georgia is in now — more talent, more financial support, everything in place that led to two straight national titles — the safe hire seems like the right one.