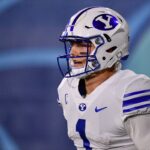 By: Kenneth Harrison
TheSouthernSportsEdition.com news services
The 2021 NFL Draft will start April 29 in Cleveland, Ohio.
We have plenty of time to speculate how teams will address their needs leading up to that.
Let's take a look around the NFC South and look at who these teams should select with their first-round pick.
Atlanta: The Falcons started the season with five losses and finished with a 4 – 12 record. Dan Quinn was fired after the slow start.
Tennessee Titans offensive coordinator Arthur Smith was hired as head coach once their season ended. As OC for the past two years in Nashville Smith showed us that he knows how to force feed Derrick Henry.
Atlanta has the 4th overall pick and they have a decision to make. Should they move on from Matt Ryan and draft a young quarterback? Or do they believe in the offense and select a player to help on the porous defense?
If they want to keep Ryan, then Alabama corner back Patrick Surtain II is the best pick. I feel old because I remember his dad from Madden 2003. He's the best corner in the draft and he would instantly help the secondary.
If they decide to go with a quarterback, they will have to choose from Trey Lance (North Dakota St.), Mac Jones (Alabama) or Zach Wilson (BYU). I think Wilson is the best out of these three and should strongly be considered if he's still on the board.
Carolina: The Panthers were 5 – 11 in 2020 and have the 8th pick.
All-World running back Christian McCaffrey missed the majority of the season. They don't have many offensive weapons other than McCaffrey.
They did add quarterback Teddy Bridgewater and speedy receiver Robby Anderson in free agency last year. Anderson did have 95 receptions, 1,096 yards and 3 scores but he's not a number one receiver.
Florida tight end Kyle Pitts would be a great addition. Pitts is 6'6, 246 pounds and a very good athlete. In 8 games he had 43 catches, 770 yards and 12 touchdowns. He could have an impact like Travis Kelce does for the Chiefs.
Quarterback could also be an option if they like the players that will still be available.
New Orleans: The Saints (12 – 4) have the 28th pick. First ballot Hall of Fame quarterback Drew Brees is expected to retire. They pick so late in the first round that quarterback is not an option.
Tulsa linebacker Zaven Collins would be a good pick. He's 6'4, 260 pounds and versatile. He blocked two kicks on special teams. He had a career high 14 tackles against an SEC team (Arkansas).
South Carolina corner Jaycee Horn could also be an option. His father Joe was a receiver for the Saints.
Tampa Bay: The Bucs (11 – 5) won the Super Bowl in Tom Brady's first season with the team. They are strong on offense so they will probably draft a defensive player.
Texas linebacker Joseph Ossai would be a good pick. In 9 games this season he had 54 tackles and 5 sacks.
Iowa defensive tackle Daviyon Nixon might also be considered. He had 45 tackles, 5.5 sacks and a forced fumble in 8 games.