Week One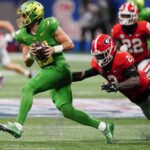 By: Kipp Branch
TheSouthernSportsEdition.com news services
1)Georgia (1-0): Did everyone enjoy the Duck hunt in Atlanta? The Georgia faithful sure did. UGA dismantled Oregon 49-3. Could have been a lot worse. After week 1 Georgia is the best team in the country.
The defending national champions looked as if they could repeat. I am not going to say it but #13 looked like the best QB in the country last weekend. Yeah, I did say it.
2) Alabama (1-0): Alabama beat Utah State 55-0. Good solid opening day win for Alabama. Alabama and Georgia are the class of the country now.
The Tide is preparing to issue a beatdown to the Texas Longhorns on Saturday in Austin, Texas.
3) Florida (1-0): Yes, Florida goes right here after week one. The Gators playing in front of a raucous Swamp crowd on Saturday night beat the team everyone said would blow them out in Utah.
Utah was never coming into Gainesville and getting a win. BTW, I called this outcome.
The Gates land here. Billy got snubbed by LSU in the hiring process after building the best program in Louisiana. They called him Sunbelt Billy in LSU circles. Bet the power brokers in Red Stick are kicking themselves now after the Brian Kelly debacle against FSU.
Anthony Richardson looks like a Heisman front-runner.
4) Tennessee (1-0): The Vol offense looked world class, but can they stop anyone with a pulse. But today they land in the four spot. Look at the SEC East rising to the top of the current power rankings…
5) Arkansas (1-0): The Hogs beat a College Football Playoff contestant from a year ago at home last weekend in Cincinnati. That is enough to land in the top five of my initial SEC power rankings for 2022.
6) Mississippi State (1-0): The Air Raid is in full effect in year 3 of the Mike Leach era in Starkville. This could be a dangerous team in 2022. Alabama and Georgia are you listening?
7) Kentucky (1-0): The Cats looked ok in week one. Business picks up this weekend in Gainesville. I mean business really picks up. The Cats will not be ready to handle Anthony Richardson and the Gators.
8) Ole Miss (1-0): The Ole Miss defense looks solid. The offense will come around soon. Lane Kiffin will see to that.
9) Texas A&M (1-0): I am not a believer. Do not get upset by Appy State at home this weekend Aggies.
10) Missouri (1-0): The Tigers looked like you would expect Mizzou to look and that is the look of an SEC bottom feeder.
11) South Carolina (1-0): The Gamecocks had to block two punts for TDs against Georgia State to pull away.
Spencer Rattler looked rusty. Carolina better get better quick with Arkansas and Georgia coming up during the next two weeks.
12) Auburn (1-0): Auburn should never be in this position which is a formal accusation on everything associated with Auburn at this moment in time. This is unacceptable.
13) Vanderbilt (2-0): This may be the high-water mark for Vandy in 2022. Vandy looks good on offense currently. Enjoy it while it lasts.
14) LSU (0-1): What in the blue hell LSU?
You looked like hot garbage against Florida State. Offense was horrible. Players were unmotivated, coaches lacked emotion.
The culture in Baton Rouge right now is rotten. For week one you land right here where you deserve.
Florida looked impressive with Billy Napier in his first game. LSU looked awful under Brian Kelly in his first game.
Absolutely no reason for LSU to look this bad with the talent on that roster.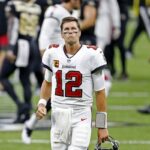 By: Kenneth Harrison
TheSouthernSportsEdition.com news services
Week 1 of the NFL season is in the books. Let's take a look at what happened around the NFC South after the first week of games.
Seattle 38, Atlanta 25: The Falcons defense looked just as bad as they have the last few seasons. Russell Wilson completed 31 of 35 passes for 322 yards and 4 touchdowns.
He also had three runs for a team-high 29 yards rushing. Atlanta sacked Wilson 3 times but that did not slow him down.
Matt Ryan threw for 450 yards, 2 touchdowns and an interception.
Julio Jones, Calvin Ridley and Russell Gage each had 9 receptions for over 100 yards.
In Todd Gurley's first game as a Falcon he rushed 14 times for 56 yards and a TD.
Atlanta outgained Seattle 506 yards to 383 but came up short all four times they tried to convert on fourth down.
The one good thing for the Falcons is Ryan surpassed John Elway for ninth on the NFL career passing yardage list.
Las Vegas 34, Carolina 30: Matt Rhule made his coaching debut as the Panthers head coach.
They had the best defense in the NFL just a few seasons ago, now they need all the help they can get.
The Raiders offense did whatever they wanted.
Second year running back Josh Jacobs rushed for 93 yards and 3 touchdowns.
Derek Carr threw for 239 yards and a score.
This was the first game for the Raiders since moving from Oakland to Las Vegas. Gruden didn't hold back on praising Jacobs.
"That was a little bit like Walter Payton used to play," Gruden said. "It was hot as hell. He got beat up early. He insisted on coming back and he insisted on getting the ball as a runner and receiver. He is special. He deserves some national attention — and I hope you give it to him."
This was Teddy Bridgewater's first game as the Panthers QB.
He had a solid game, completing 22 of 34 passes for 270 yards and a touchdown.
Former New York Jets receiver Robby Anderson also made his Carolina debut and played well. He had 6 receptions for 115 yards and a touchdown.
Of course, Christian McCaffrey had another great game. He ran for 96 yards and 2 touchdowns and he had 38 yards receiving.
New Orleans 34. Tampa Bay 23: This was the most anticipated game of the day. We all know Tom Brady left New England this offseason to become a Buccaneer.
He has a ton of offensive weapons. The Saints also feature a geriatric quarterback surrounded by playmakers.
This was the first game featuring two starting quarterbacks in their forties and they played like it.
The game started good for Brady. He rushed for a touchdown to give Tampa an early 7-0 lead.
It was downhill from there. He threw two picks and one of them was returned for a touchdown. Jameis Winston had to see himself in Brady as he watched from the Saints sideline.
"I made some just bad, terrible turnovers," Brady said. "I obviously have got to do a lot better job."
Drew Brees only threw for 160 yards and 2 TD's. Alvin Kamara had a rushing and receiving score.
Surprisingly Michael Thomas only had 3 catches for 17 yards.