SEC Power Rankings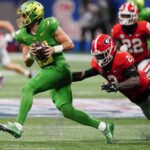 By: Kipp Branch
TheSouthernSportsEdition.com news services
1)Georgia (1-0): Did everyone enjoy the Duck hunt in Atlanta? The Georgia faithful sure did. UGA dismantled Oregon 49-3. Could have been a lot worse. After week 1 Georgia is the best team in the country.
The defending national champions looked as if they could repeat. I am not going to say it but #13 looked like the best QB in the country last weekend. Yeah, I did say it.
2) Alabama (1-0): Alabama beat Utah State 55-0. Good solid opening day win for Alabama. Alabama and Georgia are the class of the country now.
The Tide is preparing to issue a beatdown to the Texas Longhorns on Saturday in Austin, Texas.
3) Florida (1-0): Yes, Florida goes right here after week one. The Gators playing in front of a raucous Swamp crowd on Saturday night beat the team everyone said would blow them out in Utah.
Utah was never coming into Gainesville and getting a win. BTW, I called this outcome.
The Gates land here. Billy got snubbed by LSU in the hiring process after building the best program in Louisiana. They called him Sunbelt Billy in LSU circles. Bet the power brokers in Red Stick are kicking themselves now after the Brian Kelly debacle against FSU.
Anthony Richardson looks like a Heisman front-runner.
4) Tennessee (1-0): The Vol offense looked world class, but can they stop anyone with a pulse. But today they land in the four spot. Look at the SEC East rising to the top of the current power rankings…
5) Arkansas (1-0): The Hogs beat a College Football Playoff contestant from a year ago at home last weekend in Cincinnati. That is enough to land in the top five of my initial SEC power rankings for 2022.
6) Mississippi State (1-0): The Air Raid is in full effect in year 3 of the Mike Leach era in Starkville. This could be a dangerous team in 2022. Alabama and Georgia are you listening?
7) Kentucky (1-0): The Cats looked ok in week one. Business picks up this weekend in Gainesville. I mean business really picks up. The Cats will not be ready to handle Anthony Richardson and the Gators.
8) Ole Miss (1-0): The Ole Miss defense looks solid. The offense will come around soon. Lane Kiffin will see to that.
9) Texas A&M (1-0): I am not a believer. Do not get upset by Appy State at home this weekend Aggies.
10) Missouri (1-0): The Tigers looked like you would expect Mizzou to look and that is the look of an SEC bottom feeder.
11) South Carolina (1-0): The Gamecocks had to block two punts for TDs against Georgia State to pull away.
Spencer Rattler looked rusty. Carolina better get better quick with Arkansas and Georgia coming up during the next two weeks.
12) Auburn (1-0): Auburn should never be in this position which is a formal accusation on everything associated with Auburn at this moment in time. This is unacceptable.
13) Vanderbilt (2-0): This may be the high-water mark for Vandy in 2022. Vandy looks good on offense currently. Enjoy it while it lasts.
14) LSU (0-1): What in the blue hell LSU?
You looked like hot garbage against Florida State. Offense was horrible. Players were unmotivated, coaches lacked emotion.
The culture in Baton Rouge right now is rotten. For week one you land right here where you deserve.
Florida looked impressive with Billy Napier in his first game. LSU looked awful under Brian Kelly in his first game.
Absolutely no reason for LSU to look this bad with the talent on that roster.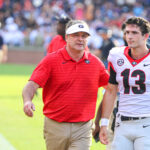 By: Kipp Branch
TheSouthernSportsEdition.com news services
Spring football is behind us now in the SEC.
All the programs have had their Spring Football games and now the pundits weigh in on typical off-season things like ranking the teams coming out of that process. Here goes mine based on my observations and things I know about the SEC in general.
Alabama: Bryce Young and Will Anderson return. Young won the Heisman in 2021, and Anderson is regarded as the best defensive player in the country.
Plus, they have Nick Saban roaming the sidelines.
Concerns for the defending SEC Champions reside along the offensive line and depth at the wide receiver position.
This is Alabama, so recruiting has not been an issue. It seems like everyone is anointing Alabama as the odds-on favorite to win the National Championship in 2022. They land at the #1 spot in my rankings.
Georgia: The National Champions (What a sweet sound coming off your lips) do not rebuild they reload now under Kirby Smart.
Stetson Bennett is back at QB, and UGA has an offense that looks like a juggernaut with Brock Bowers and company returning.
This will be an experienced unit that will score buckets of points. On the defensive side yes, they lost five first rounders to the NFL, but do not ever worry about defense while Kirby is in Athens. The unit will be elite.
Kentucky: Yes, Kentucky lands here. Laugh if you want, but Will Levis returns at QB, and Mark Stoops has quietly become one of the best head coaches in the conference.
Kentucky is becoming a serious football school. They host UGA in Lexington; this could be a classic football game.
Arkansas: Sam Pittman has the Hogs believing they are contenders.
KJ Jefferson returns at QB, and LB Bumper Pool will lead an Arkansas defense.
Alabama must travel to Fayetteville this fall, and I am putting the Tide on upset alert in May. Arkansas will have this game circled on the calendar.
Texas A&M: NIL produced on paper the best recruiting class ever. Time will tell. Who will the QB be? Many have the Aggies higher than I do, but until a QB emerges they sit at #5 for me.
Ole Miss: Yes, they lost Matt Corral and Lane Kiffin addressed that in the portal with Jaxon Dart.
This team has a swagger about them. I know they will score points. How good this team eventually becomes will depend on the defensive side of the ball. Alabama travels to Oxford on November 12th.
Tennessee: Hendon Hooker returns at QB. The Vols have some talent at WR. Will this defense perform good enough to get Tennessee to nine wins? The jury is out.
LSU: This seems low, but who should they be ranked above with the QB issues they have and a first-year head coach in Brian Kelly?
Kelly is an elite coach and LSU will always recruit well, but again tell me who the QB is?
South Carolina: Will Spencer Rattler be able to lead the Gamecocks to 8-9 wins?
Mississippi State: Will Rogers is an elite QB. State is a team that can shock the world one week and look like the worst team in the country the next.
Florida: Billy Napier will get this ship turned around and Florida will be Florida again soon.
If he can win eight games with the depth issues, he inherited in 2022 then look out for the Gators moving forward.
Auburn: Brain Harsin is the equivalent to dead man walking. The power brokers have tried to fire him this offseason and were not successful.
Talent is just not up to Auburn standards. Now watch this team win the SEC West. That is what Auburn does.
Missouri: Bowl team that just lands here due to the overall power of the SEC.
Vanderbilt: Vandy just lands here most seasons now. That is just the way things are in the SEC.