Florida State Seminoles 2022 Preview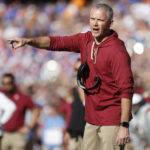 By: Robert Craft
TheSouthernSportsEdition.com news services
The Florida State football program has suffered a severe fall from grace over the past few seasons. With that newfound mediocrity, comes an automatic lack of promise entering this season.
Can the Florida State Seminoles take advantage of a manageable schedule and return to some relevance as a result? Or, will they once again fall victim to bigger fish in the Atlantic Coast Conference? Let's find out.
Vs. Duquesne (W)
Sure, the Florida State Seminoles have seen better days than the ones currently surrounding them, but they haven't fallen so far that this matchup is a toss-up. Anything less than a 40-point win here would be a darn shame, even for a season opener.
Vs. LSU (L)
The LSU Tigers may have seen a downgrade in 2021, but they will be led into New Orleans by new head coach Brian Kelly. With that said, there is a very small chance that the Noles come out of this one with a win. Kelly should take this one by two or three scores, making an early impact in his still-young tenure at LSU.
@ Louisville (L)
Following a dog fight in New Orleans with LSU fails to make things any easier. The bye week placed between the games will help, but not really. The Noles will lose a close one here.
Vs. Boston College (W)
BC will be heading to Tallahassee while Florida State is desperate to make an impression. Expect a convincing Noles win from this one.
Vs. Wake Forest (L)
To put things delicately, the Demon Deacons were not nice to FSU last season. In a 35-14 loss that included a plethora of turnovers, the Seminoles were dealt what ended up being their worst loss of 2021. The Noles may not lose by 21 again, but a disheartening defeat is almost a guarantee, nonetheless.
@ North Carolina State (L)
Now FSU will travel to Raleigh, where they have not prevailed since 2016. If Wake Forest is going to down the Noles on the road, what NC State has in store for them at home the very next week feels almost unimaginable.
Vs. Clemson (L)
Boy, the punches just keep on coming. The Tigers are still expected to be a top-tier contender in the ACC for 2022. And especially with who all they will face leading up to this game, the Seminoles will fail to stay at Clemson's level .
Vs. Georgia Tech (W)
Finally, we can see a rainbow through the storm. Most GT fans will probably end up praying for this one to end as soon as possible.
@ Miami (L)
Nothing about this matchup leaves the Seminoles with a positive outlook when entering it. Yes, they won the 2021 battle, but the Hurricanes have new head coach Mario Cristobal and they also look like the better team.
Due to the stigma of any big rivalry, the game will probably be closer than it should be. However, Miami should still be the victor by the time the game clock hits zero.
@ Syracuse (W)
This won't be a blowout, but the Noles are a better team.
Vs. Louisiana (W)
The game should start out good, but FSU will most likely pull away in the second half.
Vs. Florida (L)
The Gators have also won the last three meetings with the Seminoles. The Gators will keep Florida State out of the bowl season again. The Gators are more talented and better coached. This game will not be close.
Conclusion:
The Florida State Seminoles will finish their 2022 regular season slate with a final record of 5-7. It will be their 3rd-straight season without a bowl appearance, and their 5th-straight season with a losing record.
The Real Question:
Will Mike Norvell keep his job if my predictions come true?