Vaughn Grissom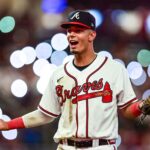 By: Teddy Bishop
TheSouthernSportsEdition.com news services
As the Braves throw out the first Spring Training pitch at Cool Today Park in North Port, Florida, six of the eight position players appear to be set.
Austin Riley will anchor the hot corner after signing a lengthy contract extension last season. Riley hit .273 in 2022 with 38 homeruns and 93 runs-batted-in. Will 2023 be his MVP year?
Matt Olsen will be back at first base for the second year of his long-term contract with Atlanta after Freddie Freeman defected to the Dodgers. Olsen will be looking to improve on his .240 average from last season, but his power numbers were excellent—34 HRs, 103 RBIs. Olsen is also a former Gold Glove winner.
The Braves are hoping for a healthy Ozzie Albies at second base, something that hasn't happened consistently since he signed his contract extension in 2021. Albies is a leader on the diamond—and in the clubhouse—but needs to stay healthy.
Sean Murphy is apparently going to be the everyday catcher as the Braves gave up some good players to obtain him, and then signed him to a long-term deal.
Murphy is one of the best defensive catchers in baseball, and had 18 homeruns with 66 RBIs last year in Oakland. Travis d'Arnaud, a fan favorite in Braves Country, may be the odd man out if someone else emerges as the designated hitter.
Willie Harris II will probably be the everyday centerfielder for Atlanta for the next decade. Harris, the reigning Rookie of the Year, should get even better as he matures.
What can you say about Ronald Acuna, Jr.? Winning Rookie of the Year in 2018, and poised to perhaps become the face of the Atlanta franchise, Acuna simply hasn't been able to stay healthy the last three years, from nagging injuries to a torn ACL.
All stakeholders say he is now healthy, and Acuna is looking to return to his 2019 form when he hit .280 with 41 HRs, 101 RBIS, and had 37 stolen bases. When healthy, Acuna is also among the leaders in put-outs for right fielders.
Left field could be an issue for the Braves. Marcel Ozuna is a defensive liability, and appears to be slated as the designated hitter (but let's not forget d'Arnaud). Eddie Rosario will probably be standing to Willie Harris' right during spring training, but I'm not convinced a trade won't be made to plug the gap in left.
That brings us to shortstop. Vaughn Grissom is penciled in, but there is an eraser on the pencil, as Braves brass says there is an open competition between Grissom and Orlando Arcia.
Filling in last year for Albies at second, Grissom batted .291 with five homeruns and 18 RBIs in 41 games. If neither Grissom nor Arcia pans out at Cool Today Park, the Braves have hot prospect Braden Shewmake in the minors.
As for pitching, the first four starters seem set. Max Fried, Spencer Strider, Kyle Wright, and Charlie Morton may be as good as any team's top four starters in the National League, and certainly in the NL East.
Mike Soroka, Ian Anderson, Bryce Elder, and others are competing for the fifth rotation spot. As you may remember, however, Anderson finished last season at Triple-A, and Soroka hasn't pitched in the majors since 2019 due to injury.
The Braves bullpen will be strong again, with Raisel Iglesias as the closer. A.J. Minter, Collin McHugh, Dylan Lee, Kirby Yates, Jackson Stephens and newcomers Joe Jimenez and Lucas Luetge should be ready to get the game to the ninth.
Atlanta also has a bevy of pitchers and position player signed to minor league contracts, which could be a spring factor.
All in all, the Atlanta Braves look pretty good for 2023 and have an excellent shot at defending their 5th straight NL East title.
The first game that counts is March 30 at Washington. Play ball!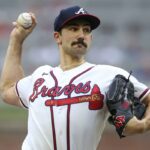 By: Joe Delaney
TheSouthernSportsEdition.com news services
Man, fall is in the air! Football is all over the place. Whether it's our local high schools, college, or the pros.
But, let's give it up for the Atlanta Braves. The World Series Wonders are fighting for the NL East title with the Metropolitans and win or lose will be back into playoffs.
The kicker on this is that the Braves have been built the same way Kirby has built the Dawgs. And that's for the long haul.
The Braves have a guy running the show who has been pulling all the right strings since he came to Atlanta. Alex Anthopoulos came to the Braves in 2017 and was promoted to president of baseball operations in February of 2020.
He is the mastermind behind what is happening to the Braves. Anthopoulos was the guy who reworked the Braves lineup late last season to bring in Adam Duvall, Joc Peterson and Eddie Rosario. I don't think the Bravos win it all without those moves.
Duvall was steady as a rock. Joc Peterson had half of Truist Park wearing pearl necklaces and ole Eddie was the NLCS MVP. Yeah, Anthopoulos pulled all the right strings last year.
But what about that deal for the long haul? What have you done for us lately, Alex? Well, he has worked on the Braves from the ground up and man this dude doesn't play around.
The Braves have three of the top overall prospects in the majors now on their roster.
How good are they? Two of them will probably finish 1 and 2 in the rookie of the year voting and the third is a consensus top 10.
We're talking about Spencer Strider, Michael Harris II, and Vaughn Grissom.  These guys all have greatness written all over them.
Spencer Strider has struck out 200 batters in 132 innings. He carries an 11-5 record as of today. He consistently hits 97-100 on the gun. One of his teammates was asked how he ranked Strider and his reply was "just under deGrom". Jacob deGrom is a future Hall of Famer.
Spencer Strider is 23 years old. Get used to seeing ladies with black fake moustaches at Truist Park! The guy is becoming his own little cult!
Vaughn Grissom is 21 years old and was brought up by the Braves when Ozzie Albies went down with a fractured foot over the summer.
He skipped AAA ball and came up from AA. With the Braves, he has played sterling defense and is batting .302 with 5 HR and 16 RBI in 34 games. Now with Ozzie out again with a fractured pinky, Grissom will finish out the season at 2B. This guy has a chance to be a great one.
Last but not least of these three amigos is Michael Harris II. He is the odds-on favorite for NL Rookie of the Year.
The amazing thing about that is he only came up to the Braves at the end of May. Harris has solidified center field for the Braves and should be there for the foreseeable future.
He is currently hitting .305 with 18 HR and 59 RBI and 17 SB. He is 21 years old.
Anthopoulos knows his stuff and just signed the rookie Harris to an 8 year 72 million contract.
So, this is how Alex Anthopoulos is building the Braves for the future. And what a future it's going be. These guys are loaded and now have a lineup that is as good as any in baseball. I think ole Alex is gonna keep it that way. GO BRAVES!