Alabama Crimson Tide 2022 Preview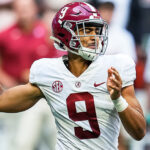 By: Joe Delaney
TheSouthernSportsEdition.com news services
Why the heck would anyone rank these guys the preseason #1? Let's see….
They have the consensus #1 collegiate football coach of all time.
They have the returning Heisman Trophy winner at quarterback.
They have the #1 pro prospect on defense who had SEVENTEEN and ONE HALF sacks last year.
They have 4 of the top transfers in the nation in Jahmyr Gibbs [Georgia Tech], Jermaine Burton [Georgia], Eli Ricks [LSU], and Tyler Steen [Vanderbilt].
They have 4 starters back on the O-line and the TE
They have 8 starters back on defense plus the punter and PK.
They have had a "rebuilding" year according to Saban and went 13-2 and lost in the Natty to a once in a lifetime Georgia team.
That's a lot of 'they haves' and I can't think of any 'they don't haves'!
They are the consensus #1 for now and should be next January. Boys and girls this team is built to run the table!
Offensively the Tide will be loaded with the only questions being the tackle spots.
Look for Tyler Steen, the Vandy transfer, to step in at left tackle. He will be a key protecting Bryce Youngs blind spot.
J C Latham has the experience and size, 6'6 325, to excel at right tackle. TE Cameron Latu is back to give defenses fits and the wide receivers will be good. Look for Jermaine Burton to have a big year. And Ja'Corey Brooks won't be far behind.
At running back, Trey Sanders has waited his turn and will be another load for defenses both running the ball and out of the backfield. This offense averaged 488 years and 40pts per game last year. It will be better with the maturity in the O-line protecting Bryce Young and opening holes for Sanders.
Defensively the Tide has experience and speed! They return 4 of the front 7, including "the man" Will Anderson.  You could write a whole column just on Will.  The 6'4 245 LB is probably the best collegiate player for 2022.  With 4.5 speed and a head hunter's mentality, Anderson will wreak havoc this year.
Look for DC Pete Golding to find ways to turn Anderson and sophomore phenom Dallas Turner loose. D J Dale anchors a solid defensive line and Henry To'oTo'o is an all-SEC type backer.
This defense ranked 7th overall in the country in total yards given up last year.  They will be better.
The DBs should be bolstered by Eli Ricks and will be solid with Kool-Aid McKinstry, Jordan Battle, and Demarcco Hellams all back.
PK is in good hands with returning SR Will Reichard and punter James Burnip is back also.
One more item for the Tide will be Jahmyr Gibbs returning punts and kickoffs.  He should be outstanding and have a big year.
Schedule wise, the Tide opens with an 11-3 Utah State team and then travels to Texas and former OC Steve Sarkasian.
Those games will show what's coming to an SEC slate that includes the usual culprits.
There are a couple of tough ones with a revamped LSU, a rising Arkansas, and A&M at home. The only trip up game that I can see, would be at Tennessee.  I Would love to see that one.
Oct 15 at Neyland stadium. A hundred thousand orangenecks! The pomp, the pageantry and SEC football at its best! If the Vols can stay up for 4 quarters, they might make it a game.
Both Bill O'Brien and Pete Golding return as coordinators, which is rare for Bama. That's a real plus for a team that has just about everything going its way.
Nick Saban said last year was a "rebuilding" year and caught some flack for that. Guess what? Nick don't lie………I look for the Elephants to stomp everything in their path this coming year.
Maybe Georgia can play with them, maybe Ohio State.  But probably not, I look for the Tide to HAVE IT ALL in 2022.