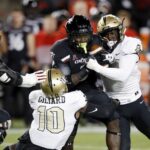 By: Robert Craft
TheSouthernSportsEdition.com news services
Here's a Florida College football fan's guide to this week's games as the 2020 college football season is on its way into Week 12.
Last Saturday, Florida showed no signs of hangover from the World's Largest Cocktail Party, by trouncing Arkansas 63-35.
Senior Quarterback Kyle Trask keeps breaking SEC records with his sixth game with four or more touchdowns.
The Gators travel to Nashville to take on the Commodores of Vanderbilt. Florida opens as a 31.5 point favorite.
Can Kyle Trask continue to play at an All-American level? Can the Gators put the game away early and rest some starters? My predictions: Trask throws for 5 touchdowns and they roll Vandy 45-13.
Last Saturday, FSU fans got a glimpse of their future. Chubba Purdy started the contest versus the North Carolina Wolfpack. Purdy played well, going 15 for 23 for 181 yards and 2 touchdowns, but it still wasn't enough as the Wolfpack dominated the Noles 38-22.
FSU hosts number four Clemson at noon in Doak Campbell Stadium and the Noles are a historic underdog in the contest.
The Tigers open as a 32.5-point favorite over the 2-6 Seminoles. FSU was a 26-point underdog to Clemson last season, which was believed to be the largest point spread in school history.
Clemson suffered their lone loss two weeks ago to Notre Dame without star quarterback Trevor Lawrence.
Their signal caller is expected back and that means bad news for the Noles. Clemson is a national powerhouse and Florida State is a national landfill.
In my opinion, this is the worst Florida State team in program history! Clemson 52 FSU 20.
Last Saturday night in Orlando, UCF manhandled Temple 38-13.
The Knights opened the game with a strip sack and never looked back. The Knights offense did not look like it was clicking until the start of the 3rd quarter, when Dillon Gabriel found Marlon Williams for an air mail touchdown.
For UCF, standards this season have been disappointing. The Knights are 5-2 after being picked by many to win the AAC conference.
The Knights and Bearcats renew their revere on Saturday in the Bounce House. With very limited capacity, the Bounce House during the 2020 season has not provided their normal home field advantage.
The Bearcats come into this game looking to remain unbeaten and take another step towards a potential playoff spot.  Cincy opens as a 4-point favorite.
This is a battle between UCF's offense and Cincinnati's nationally ranked defense. The Bearcats are outscoring their opponents 212-57, with an average margin of victory of 31 points per game.
Those numbers are against quality offenses like Memphis, Houston and SMU.
UCF will score points, but Cincinnati is too legit this year. Give me the Bearcats 48 Knight 38.
The Miami Hurricanes game against Georgia Tech has been postponed due to COVID.
The Canes are coming off an impressive come from behind victory over Virginia Tech last Saturday.
D'Eriq King led a second half comeback to keep the Canes in the mix for the ACC title game. King makes Miami the U again.
So, sit back, buckle up and enjoy some college football this weekend.
If you are a Knight expecting a battle in the Bounce House, a Seminole praying for a miracle, a Gator witnessing a massacre or a Hurricane just waiting to troll the other fan bases, live college football offers us an escape during these stressful times.