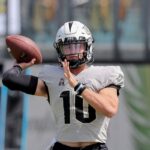 By: Robert Craft
TheSouthernSportsEdition.com news services
"When you look at your schedule, there's no off weeks," UCF head coach Gus Malzahn said. "You've got to bring your A-game every week. That's really what stands out to me coming in as a new kid on the block."
Without a doubt, 2023 boasts the toughest schedule in UCF football's history.
It's exactly what the Knights want: the chance to play before sold-out crowds on tradition-rich Big 12 campuses.
With the five Big 12 road games and one at Boise State in non-conference play, it's still a more manageable schedule than any other BIG 12 team.
Let me be clear- it's not all going to be easy. Those road dates at Kansas State, Oklahoma, and Texas Tech will keep UCF from cranking out a massive debut season.
Do the Knights have the skill level, depth, and toughness to compete in their new conference?
Head Coach Gus Malzahn has been preparing for UCF's first season in the Power 5 for two years, with the goal of building a roster that's able to match up with the Big 12.
Malzahn and his staff dove into the transfer portal, adding 18 new transfers to the 2023 roster. A handful of hot-handed new players come with Power 5 experience and clout.
John Rhys Plumlee (JRP) returns for year two at UCF as one of Malzahn's most trusted leaders, entrenched as the starting quarterback.
JRP returns  with a wealth of talent around him, from receivers Javon Baker, Kobe Hudson and Trent Whittemore to tight end Alec Holler and running backs RJ Harvey, Demarkcus Bowman, and Johnny Richardson.
There's a new playcaller at UCF. Malzahn brought in offensive coordinator Darin Hinshaw this offseason.
Before Malzahn arrived at UCF, the Knights boasted one of the most explosive offenses in the country. The scoring average dropped from 40+ points per game in 2020 to around 32 per game in 2021 and 2022. Big 12 dogfights will happen this season. UCF must keep up.
The Knights defense is okay at best. They need to be a more disruptive force to win games this year.
The run defense got ripped up late last season, the pass defense had issues during the middle of the season. There are enough good veterans back to be better in 2023. Against real competitors, will UCF only be able to perform on one side of the ball?
For the fans: There will be an upset here and there, but there also isn't a sure win outside of Kent State and Villanova. Are you worried?
Don't underestimate anything this team and program can do, but figure on at least two losses between the road trips to Boise State, Oklahoma, and Kansas State, and at best the away games against Cincinnati, Kansas, and Texas Tech are 50/50.
With a manageable schedule, will UCF manage a successful season?
My concern is for quarterback health. Rhys Plumlee doesn't shy away from contact and is regularly on the move behind an offensive line that may be worse than last year's. Taking hits piles up, and he's already missed games in his career. If Rhys Plumlee misses games in 2023, UCF is in serious trouble.
UCF could win 8 or 9 game with a healthy Plumlee but if he's injured or playing hurt 6 or 7 games is the ceiling.