Are Florida State Seminoles A College Football Playoff Team?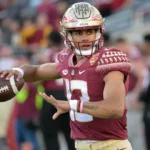 By: Robert Craft
TheSouthernSportsEdition.com news services
On the heels of the Seminoles' 45-24 drubbing of No. 5 LSU on Sunday night, it's time for my 3-2-1, where I offer up three observations and one prediction about Florida State football.
Three things I  learned.
1 — This team's chemistry might be even stronger than 2022:
You didn't have to be a scout to like Florida State's roster entering the 2023 season.
The Seminoles were bringing back the vast majority of their production from a 10-3 team, and they brought in a slew of talented, experienced transfers to add to the mix.
At wide receiver, tight end, cornerback and on the O and D  lines, Florida State landed several of the very best players in the transfer portal. You saw many of them shine Sunday night against LSU — everyone from Keon Coleman, Jaheim Bell and Jeremiah Byers to Braden Fiske, Fentrell Cypress and Gilber Edmond.
Physically, I think most of us expected the Seminoles to be a better football team this fall than last.
While it was only one game, and there undoubtedly will be more difficult moments down the road, there were a ton of great signs of the togetherness and commitment these players have for each other.
From the defense delivering two huge fourth-down stops in the first half, to the offense sticking together until things began to click late in the second quarter.
Jordan Travis displayed remarkable leadership after a couple of costly early mistakes and drops.
We don't know if it will always be like this. Heck, emotions and circumstances derail college football teams all the time. I thought it was fair to wonder how this team might be affected by lengthy expectations with a changing roster and the complications that come with money.
To the contrary, I think this team might have even more positive energy and leadership than the program did in 2022. And that is saying something.
2 – Second-quarter drive spoke volumes:
As poorly as Florida State's offense was performing for most of the first two quarters Sunday night, there was a real chance FSU ended  in too big of a hole at halftime to climb out from.
They were trailing 14-7 midway through the second quarter. The offense had just finished their last four drives with three punts and an interception. There was another near-interception in there that could have been disastrous — deep in FSU territory.
When the Seminoles got possession at their own 25-yard line with 6:02 remaining in the first half, I felt like they were teetering on disaster.
If the offense didn't find the end zone on that drive, Florida State likely would have been trailing by two scores at halftime, and LSU would have had a ton of momentum, a world of confidence, and a winning chance.
The second half the Seminoles took control of the game. But those early fourth-down stops — and that big answer by Travis in the second quarter — are what made their win possible.
3 – Player development was on full display:
The transfers will get most of the attention, and rightfully so.
Former Michigan State star Keon Coleman caught three touchdown passes. Former South Carolina star Jaheim Bell scored two touchdowns of his own. Transfers played well in their  FSU debut.
But several "program players" — guys who have been at FSU for their entire careers — came through at important moments and showed just how far they have come during their time in Tallahassee. Here are a few who stood out Sunday:
Linebacker DJ Lundy came through with a huge fourth-down sack of LSU quarterback Jayden Daniels to thwart one scoring opportunity, and he was in on another tackle for loss.
Lundy now looks like a completely different player than when he was forced into early action back in 2020 and 2021.
This defense will give Florida State every opportunity to achieve any goal this season, and Jordan Travis & the offense is explosive. I am calling it now FSU 13-0.
Fans, time to buy your playoff tickets.