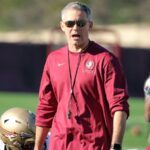 By: Robert Craft
TheSouthernSportsEdition.com news services
The college football season is over and Alabama has regained the throne.
For the Big Four in the State of Florida, its year-end report card time.
The biggest question when I go to grade these teams is expectations versus on field performance.
Florida State: The buzz surrounding Florida State Football has been steadily building with the arrival of Mike Norvell. The Seminoles kicked off the season against ACC rival Georgia Tech and ended with Duke.
FSU finished with three wins and six losses. The Noles had three games canceled due to COVID. The signature win was against number 5 North Carolina 31-28. Many fans were excited that the program had finally turned the corner and FSU football was back.
But a week later Louisville routed the Seminoles 48-16.
Florida State has long been considered one of the Elite programs in the country, but if last season is a gauge of the program's direction, it is in big trouble.
Team stats: Passing 159 for 292 for 1,771 yards, ten touchdowns and 13 interceptions. Rushing 352 attempts for 1,799 yards and 19 touchdowns. Receiving 159 catches for 1,771 yards.  Defensively the Seminoles allowed 257 yards passing per game and 199 yards rushing per game.  FSU scored 232 points this season and allowed 324.
The few bright spots from this season were Jordan Travis, Lawrence Toafili, Amari Gainer and Emmett Rice.
Mike Norvell's first season grade: F
UCF: The Knights entered 2020 with the goal of winning the AAC. That goal was not accomplished.
The Knights blew two big halftime leads to Tulsa and Memphis. That set the tone for the remainder of the season.
Central Florida finished with a 6-4 record but that did not meet the expectations of the program.
Offensively the Knights did put up record breaking numbers led by Sophomore quarterback Dillon Gabriel and wide receiver Marion Williams.
Gabriel was 248 for 413 for 3570 yards, 32 touchdowns and 4 interceptions.  Williams recorded 71 catches for 1039 yards and ten touchdowns.
UCF was very defensive in 2020. The Knights gave up 299 passing and 192 yards rushing (average per game).
In UCF's four losses, the Knights allowed Memphis 41 first downs and over 700 yards of total offense, they also allowed Tulsa 23 first downs and over 450 yards of total offense. Cincinnati had 28 first downs and over 500 yards of total offense and BYU had 34 first downs and over 650 yards of total offense.
UCF fans have great expectations but realize that 2017 & 2018 are long in the past.
Josh Heupel's grade: C+
Miami: The Canes finally had a standout starting quarterback in D'Eriq King and he helped bring some of the swag back to South Florida.
The Hurricanes took strides forward from Manny Diaz changing the culture in Miami.
Miami finished 2020 with eight wins and three losses.
King was a difference maker for the Canes. He was 211 of 329 for 2,686 yards passing, 23 touchdowns, only 5 interceptions, 538 yards rushing, and 4 touchdowns.
The Hurricanes struggled against top tier ACC teams with blow out losses to Clemson (42-17) and North Carolina (62-26).
In these games, Miami was plagued with errors whether it be penalties, missed assignments, drops, or lack of effort.
The offense took a step forward, but Miami's defense looked unmotivated, porous and undisciplined.
Despite great performances against Duke and Florida State, the defense surrendered too many yards on the ground to North Carolina (554).
They also allowed Oklahoma State's quarterback to throw for 300 plus yards and four scores.
Manny Diaz grade: B