Deion Sanders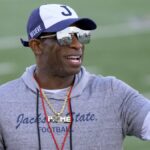 By: Kenneth Harrison
TheSouthernSportsEdition.com news services
The Geoff Collins era at Georgia Tech has ended. Athletic director Todd Stansbury was also fired.
Collins was in his fourth season as the head coach in Atlanta. He has a record of 10 – 28, with no better than three wins in the previous seasons. This is the lowest winning percentage (.263) of the team's 13 full-time coaches. Stansbury's tenure as the department's ninth athletic director is complete after six years.
The Yellow Jackets are off to a 1 – 3 start this season. They lost Saturday at Central Florida, 27 – 10. Tech played well enough to win but made enough mistakes to lose.
"I just think that critical situations, have to make sure we're getting points on the board, and we're not doing it, and obviously that falls on me as the head football coach," Collins said.
They got in the red zone five times and did not score on any of those possessions. Tech missed two field-goal attempts, fumbled the ball away twice and turned it over once on downs.
The Yellow Jackets averaged 7.2 yards per play against UCF. Since the start of the 2000 season, before Saturday, ACC teams had averaged at least 7.2 yards per play 438 times, according to sports-reference.com. None had ever scored fewer than 17 points.
"Outgained them by over 100 yards, but when the other series of events happen, it's hard to win games against a really good football team. Obviously, credit to UCF, but not the result we wanted," Collins said.
The head football coach and the athletic director being relieved of their duties on the same day with more than half the season remaining is a highly unusual scenario for Tech.
Collins had several shortcomings that caught up with him. In his 38-game tenure, the Jackets lost six games by 40 points or more. Previously, Georgia Tech had lost by 40 points or more six times over 42 seasons.
Tech allowed four blocked punts in the first four games, all of which led to touchdowns. Ironically for Collins, he oversaw the punt unit and was not able to fix the issue.
Stansbury is a Tech grad that also played football for the Yellow Jackets. He's the first Tech AD to not leave the post on his own accord. He was hired in 2016 from Oregon State. He hired Collins in December 2018 from Temple to succeed Paul Johnson.
I thought Collins was a bad hire from the beginning. He was only 15 – 10 in his two seasons at Temple. He pitched his idea to Stansbury that he would use branding and culture to land top recruits. He's from Rockdale County and he worked under former coaches George O'Leary and Chan Gaily.
Collins is contractually due the full amount remaining on his final three years, $10.5 million.
I saw some of the candidates for the job and honestly, I do not think they can land them. Deion Sanders is at the top of the list. Coach Prime is at FCS Jackson State and he has landed several four and five star recruits. That includes the top recruit in the class of 2022, Travis Hunter, who is from Metro Atlanta.
Sanders played for the Falcons and Braves. After a 4-3 record in his first COVID-19 shortened season with the Tigers, he led JSU to an 11-2 record (9-0 SWAC) in his second campaign. The Tigers are 4-0 to start 2022 while outscoring opponents 190-37.
Shawn Clark, Appalachian State's head coach is also a candidate. Georgia offensive coordinator Todd Monken should also be considered.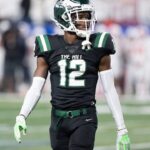 By: Robert Craft
TheSouthernSportsEdition.com news services
Travis Hunter, the country's top recruit, spurned Florida State during the early-signing period. The prodigious athlete abandoned his long-time commitment to FSU in the final hours of his recruitment for Jackson State, an FCS program led by Seminoles' legend Deion Sanders.
Sanders, who's led the HBCU in Jackson (Miss.) since 2020, promised to shock the world during the Early Signing Period.
He didn't disappoint, but broke the hearts of the FSU fan base in the process. Hunter announced his decision on Wednesday during a signing ceremony at his school, tossing an FSU hat to the side while putting on a Jackson State hat and shirt.
Hunter, the five-star prospect out of Collins Hill (Suwanee, Ga.) was one of the highest-ranked recruits in the history of recruiting services with a Composite Grade of 0.9999. He grew up an FSU fan and was committed to the Seminoles since the spring of 2020.
But Jackson State's late push, believed to be backed by Name Image Likeness, doomed FSU's chances late.
It's a critical blow to the recruiting efforts of Mike Norvell and the 2022 recruiting cycle. FSU was pushing for a Top 10 class, but losing the prodigious prospect derails that hope and puts the future of the Norvell Era in a tenuous position.
FSU's staff was viewing Hunter as a two-year player, who could help out immediately on either side of the ball as a true freshman.
In the last three seasons, Hunter had 19 interceptions while also scoring 46 receiving touchdowns (in addition to recording 3,807 receiving yards).
In addition to bolstering FSU's class rank, Hunter was an alpha dog for FSU on the recruiting trail as he helped guide various prospects to the Seminoles — including five-star defensive back Sam McCall — and weather the storm after an 0-4 start to the season.
McCall has already requested out of his National Letter of Intent and will be back on the market soon enough. Florida State is asking him to take a few days to consider.
The NLI is pointless at this point as it costs a counter if you force the kid to enroll and, until they enroll, it does not count as a transfer. Likewise, they can transfer anywhere immediately so it's a mutually assured destruction situation where no one wins. This is what happened famously with Zach Evans and UGA.
More bad news for Seminole fans, Fort Lauderdale (Fla.) Dillard four-star wide receiver Devaughn Mortimer has flipped his commitment from Florida State to Louisville and Tift County four-star defensive tackle Tyree West flipped to Tennessee.
Again, FSU is 5-7 and likely going to sign the best class for a team with a losing record in the early signing period.
This class is beyond impressive once you realize the hurdles the staff had to overcome, even if those hurdles were somewhat self-imposed. The jury is still out if this staff can recruit and it will be interesting to see what they can do on-field in 2020.
My final thoughts: has he done more damage to the FSU program in the last 4 months than he did to help FSU in the previous 35 years? Is Deion's contribution to FSU now officially a net negative or a net positive?