Can Miami Hurricanes Upset Florida State Seminoles?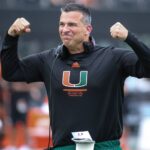 By: Robert Craft
TheSouthernSportsEdition.com news services
It is officially Miami week for the Florida State Seminoles.
No. 4 FSU is an early 14.5-point favorite for Saturday's game, set for 3:30 p.m. at Doak Campbell Stadium.
The Seminoles are 9-0 and 7-0 in Conference, while Miami is 6-3 and 2-3.
Despite dealing with several injuries, Tyler Van Dyke is leading the Hurricanes at quarterback once again this season.
He has 2,057 yards on 170-of-251 passing, which is a solid 67.7 percent completion percentage. But he also has thrown 11 interceptions to go with his 16 touchdowns. Van Dyke has thrown more picks than any quarterback in the ACC.
Freshman QB Emory Williams has also played in four games for the Hurricanes, completing 36 of 48 passes for 295 yards, one touchdown and an interception.
In the running game, Miami has distributed carries between several different backs. Henry Parrish and Don Chaney have shouldered most of the load, but freshman Mark Fletcher ran for 115 yards on 23 carries last Saturday against N.C. State.
Parrish leads the running backs overall with 469 yards and four touchdowns on 77 carries. Chaney has 379 yards and two touchdowns on 75 carries.
Receivers Xavier Restrepo and Jacoby George have  been solid for Miami in the air.
As for the defense, safety James Williams  leads the team in tackles with 51. All-ACC safety Kamren Kinchens and Te'Cory Couch have also been notable leaders in the secondary for Miami. Kinchens has four interceptions on the year (second in the ACC) and Couch has three, tying him for third in the conference.
Freshman Rueben Bains Jr. leads the team with 6.5 sacks and 7.5 tackles for loss. His sack total ranks 4th in the conference.
As a team, the Hurricanes have lost three of their last five games, starting with a late collapse against Georgia Tech. Then, they lost at North Carolina before beating Virginia and Clemson in overtime at home. The Hurricanes come into Doak after a 20-6 loss at N.C. State last Saturday.
The Hurricanes rank 38th nationally in scoring offense at 32.1 points per game and 30th in scoring defense at 20.0.
If history is any indication, the odds are very strong that the Florida State football team will defeat Miami this Saturday and improve to 10-0 on the season.
Since 1997, the earliest point spread records available online, Florida State is a perfect 5-0 when favored by double-digits against the rival Miami Hurricanes. And UM has never lost to FSU when favored by that much.
Miami is a bit of a mess right now (always?), but I think the game states that the Hurricanes are likely to be playing angry against Florida State. I think Miami might be able to find a little more success through the air than one would expect. Meanwhile, Florida State should be getting a little healthier on the offensive side of the ball.
FSU 38 Miami 13