Jordan Travis Heisman Contender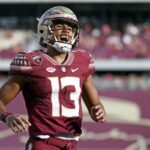 By: Robert Craft
TheSouthernSportsEdition.com news services
Most Florida State fans and media expected to see improvement from the FSU football team in 2022; few could have honestly predicted that the Seminoles would go 10-3 with wins over the likes of Florida, Miami, LSU and Oklahoma after their lackluster 2021.
Coming into the 2022 season, it would be Jordan Travis' first year as a full-time starter but his third year in the system. On top of that, it would be Travis' first opportunity to be the unquestioned leader of the Seminoles' offense, which comes with large potential upside.
Travis not only emerged as Florida State's best starting quarterback since Jameis Winston, but one of the very best in the country.
In leading the Seminoles to a 10-3 record, Travis completed 226 of 353 passes (64.0 percent) for 3,214 yards and 24 touchdowns with five interceptions. He also rushed for 417 yards and five touchdowns and even hauled in a touchdown catch.
Travis was named second-team All-ACC. He showed great improvement as a passer and appeared completely confident in his third season in Norvell's offense.
Since the Seminoles didn't have a proven backup, some worried that the season could be derailed at any moment.
Fortunately for FSU, backup QB Tate Rodemaker showed great composure and led the Seminoles to a 35-31 win over Louisville.
Rodemaker's stellar performance in a hostile environment, along with Travis' ability to rebound quickly from injury is what alleviated most of those concerns.
After Travis's start against Boston College, it turned out he would remain healthy for the rest of the year, and play in all 13 games.
Based on Travis' performance and Rodemaker's improvement as a redshirt sophomore, the Seminoles discovered one of the best quarterback situations in college football by the end of the season.
Travis didn't waste much time in announcing that he would return and he already is appearing on some early Heisman predictions. Rodemaker and AJ Duffy are also expected to be back, and the Seminoles also will bring in freshman Brock Glenn, a four-star prospect from Memphis.
Travis not only led Florida State to its first 10-win season since 2016, but according to Pro Football Focus, he was the best Power 5 quarterback in the nation.
The way Jordan Travis played in the second half of this season, and with the moves the Seminoles are making in player retention and in the transfer takes, I think Florida State is poised to take another big step next season.