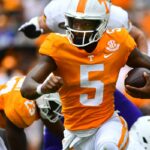 By: Jeff Doke
TheSouthernSportsEdition.com news services
Tennessee Volunteer fans probably feel like they're in a bit of a time vortex right now.
While last years' initial campaign from new head coach Josh Heupel gave the Vols as much hope as you could expect from a first-year-of-a-rebuild season, the spectres of Jeremy & Casey Pruitt and their 18 Level I NCAA allegations still hang in the shadowy corners of Neyland.
Let's focus on the positives here, though. In his first year as head coach, Heupel did a yeoman job of changing the atmosphere & attitude around the football program, and his players on the field responded.
The 2021 Vols produced 39.3 PPG and set several single-season program records, including total yards, points, and TDs. This up-tempo production can only go up this year, considering the rapport that QB Hendon Hooker and WR Cedric Tillman developed last year.
Hooker, after taking over the starting job early in the season, threw for 31 TDs and ran for another 5, all while limiting himself to 3 interceptions. Don't be surprised if he gets some fringe Heisman consideration.
The defensive side of the ball is where the second-year coach is really going to need to work some magic. The Vols defense underperformed last year, sometimes considerably. If they are going to have even an outside chance at knocking off some of the (pardon the pun) "big dawgs" in the SEC, they'll need to improve their third down efficiency, especially through the air.
Here's how you can expect the Vols season to pan out.
WEEK 1 – vs. Ball State – Like any good SEC team not named Georgia, the season starts with a cupcake. Easy win against the Cardinals, 31-14.
WEEK 2 – @Pittsburgh – Pitt is in a bit of a resurgence, so this isn't an idea time for Tennessee to come calling. I wouldn't be surprised they pull an upset, but I wouldn't bet on one either. Vols fall 28-10.
WEEK 3 – vs. Akron – Another lightweight, another W for Big Orange. Zips get zapped, 41-7.
WEEK 4 – vs. Florida – The Gators ran away in the second half last year, smashing UT 38-14. Vols get their revenge & open the SEC slate with a victory 31-24.
WEEK 5 – @LSU – Death Valley is a tough place to play, even on a bad year. Brian Kelly's antics (and fake accent) might distract, but not enough to make a difference this year. Tigers win big, 49-17.
WEEK 6 – vs. Alabama – Someday, this rivalry will be competitive again. Today, however, is not that day. Bama does Bama stuff in a 55-14 trouncing.
WEEK 7 – vs. Tennessee – Martin – Got to pad those stats somewhere in the season. This is the week to do so. UT over UT-M, 45-20.
WEEK 8 – vs. Kentucky – This one will be closer than most match ups for the Vols this year. Kentucky will be hard pressed to match the momentum they built last year. Give it to UT, 28-24.
WEEK 9 – @Georgia – It seems to be fashionable to pick this as a trap game. I've never in my life been accused of being fashionable. Dawgs on top, 42-20.
WEEK 10 – vs. Missouri – Someone explain to me again why a midwestern team like Mizzou is in the Southeastern Conference? Tennessee easily notches another win, 28-10.
WEEK 11 – @South Carolina – Shane Beamer showed a lot of the same promise that Heupel did last year. It'll be interesting to see which one is still around in five years. Beamer ball will take a close one at the horseshoe, 17-14.
WEEK 12 – @Vanderbilt – Nothing like an easy win for a team waiting on a call from the Belk Bowl. Vols wrap up the season with a 38-6 win.
FINAL PREDICTION –  UT goes 7-5 for the season, 4th place in the SEC East, mid-level bowl berth.