Tennessee Volunteers 2023 Preview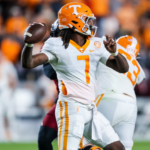 By: Jeff Doke
TheSouthernSportsEdition.com news services
For a brief, fleeting, shining moment in 2022, the Tennessee Volunteers were on top of the world.
They were undefeated and had big wins over LSU and Alabama. They were the #1 team according to the CFB Championship committee.
Their reign of the top spot in college football lasted less than a week.
All in all, the '22 season set expectations pretty high for the '23 season, and it's probably going to fall short.
Couple that with the NCAA sanctions after the Jeremy Pruitt debacle and it looks like it might be a tough road ahead for the Volunteers.
With Hendon Hooker off to the NFL as part of what I believe will be one of the most underwhelming QB classes of the last 20 years (certain exceptions apply), the QB position for the upcoming campaign is quite possibly the biggest question mark of the season.
Joe Milton gets handed the keys to the offense after handing them off to Hooker due to injury in 2021. He has the physical tools and intangibles, but if the sixth-year signal caller has a hard time firing up the offense, don't be surprised if there are calls for Nico Iamaleava between non-stop choruses of Rocky Top. The 6-6, 205-pound SoCal product comes as touted as they come.
Backs and receivers should be fine as well. Jaylen Wright is back to try to improve over his 875-yard campaign from last year, and Samson and Small fill out the rotation.
Bru McCoy and Ramel Keyton will more than likely be the leading receivers, but I'm rooting for the Key and Peele favorite name on the squad; Squirrel White. How can you not root for a kid with that name?
The problems are going to come from the O-Line and defensive backfield.
Josh Heupel's staff is moving many of last year's linemen around, and the secondary lost a lot of talent in the offseason.
Both are problematic and will probably wind up being the reasons why this year's orange & white winds up underwhelming Rocky Top Nation.
Here's how I see the week-to-week breaking down.
WEEK 1 – Vs. VIRGINIA (at Nashville) – Heupel's squad has done well in national spotlight games not held in Athens. Expect similar results against the Cavaliers. Vols start with a W, 28-13.
WEEK 2 – vs. AUSTIN PEAY – At this point of the season, I'm running out of witticisms for cupcake games. Just be confident in UT walloping AP bigly, we'll say 49-9.
WEEK 3 – @ FLORIDA – Here's where it gets ugly. Tennessee hasn't won in The Swamp in 20 years. Make it 21 in a row for the Gators, 24-14.
WEEK 4 – vs. UTSA – See the Austin Peay comment. Another whuppin' handed out by the orange & white, 45-13.
WEEK 5 – vs. SOUTH CAROLINA – I could see this one going either way to be honest, but I think Beamer Ball takes one in a high-scoring matchup. Vols fall in OT 41-38.
WEEK 6 – vs. TEXAS A&M – I have just as much faith in Beamer Ball as I do mistrust of horse-tranquilizer poster boy Jimbo Fisher. The much heralded breakthrough year for the Aggies takes a setback with a 31-21 Tennessee victory.
WEEK 7 – @ ALABAMA – I REALLY want to pick UT to make it two in a row against Saban here, but I just can't. Check back with me after the Florida game & I may change my mind. Vols fall 35-17.
WEEK 8 – @ KENTUCKY – This is where the wheels really come off the season. Cats let 'er rip at home and send Heupel and company back to Knoxville with a 38-13 embarrassment.
WEEK 9 – vs. UCONN – Nothing cures a two game losing streak quite like an AAC matchup. A much needed win for the Vols, 35-10.
WEEK 10 – @ MISSOURI – The midwestern Tigers put up a fight, but UT pulls it out, 24-17.
WEEK 11 – vs. GEORGIA – If I get two out of the four losses wrong and Rocky Top comes into this still in contention for second in the East, this might be a signature win for the Vols. I don't think I will, though. The back-to-back champs take it easily 42-21.
WEEK 12 – vs. VANDERBILT – At least they end the year against Vandy, and Vandy is still Vandy. UT wraps up the season with another W, 35-18.
FINAL PREDICTION: 7-5, 4th place in SEC East.