2021 Preview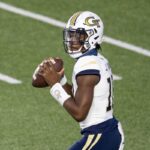 By: Kenneth Harrison
TheSouthernSportsEdition.com news services
Georgia Tech kicks off the college football season September 4th at home against Northern Illinois.
Geoff Collins is entering his third season as the head coach in Atlanta. His record is 6 – 16 and he won three games in each of his first two seasons. The question is 'can the Yellow Jackets finally turn the corner this season?'
Last season true freshman quarterback Jeff Sims started. As expected, he went through growing pains learning and gaining experience. He passed for 1,881 yards, 13 touchdowns and 13 interceptions. He also led the team in rushing with 492 yards and 6 TD's. I think he will be drastically better as a sophomore.
True freshman running back Jahmyr Gibbs was a four-star recruit coming out of high school. He missed several games in 2020 due to injury. He rushed for 460 yards, 4 touchdowns and averaged 5.2 yards per carry. He was also second on the team in receptions with 24 catches, 303 yards and 3 scores. If he can stay healthy, he should run for a thousand yards.
Junior running back Jordan Mason can run effectively when he plays. In 2020, he rushed for 352 yards, 2 TD's and averaged 4.3 YPC.
They did lose the leading receiver last season, Jalen Camp. He graduated and was drafted in the 6th round by the Jacksonville Jaguars.
Left tackle Devin Cochran is a grad-transfer from Vanderbilt. He's 6'7, 320-pounds and should immediately improve the offensive line.
Tackle Kenneth Kirby is also a grad-transfer from Norfolk State. He was a three-year starter and two-time All-MEAC selection.
You may be noticing a theme so far with the grad-transfer players. Linebacker Ayinde Eley joined the team in January after transferring from Maryland. He was voted a team captain for the spring game and has been a leader since showing up on campus.
Georgia Tech needs to improve in every aspect because they have not done anything well in the Geoff Collins era. We have seen they can win three games but they will need to double that to become bowl eligible. One thing that was promising is that all of the wins last season were against ACC teams. T
hey are starting to level the playing field and they now need to win one more conference game and two non-conference games to get to six wins.
I believe Tech will win the season opener against Norther Illinois.
The following week, September 11th is also at Bobby Dodd Stadium against Kennesaw State. The Owls are an FCS team but they are tough. I think this will be a close game but I give the advantage to Tech.
Week 3 is the first away game against Clemson. We all know that GT will be slaughtered. Last season they were embarrassed 73 -7. I think this game will be closer but that would still be a forty-point loss.
The fourth game is against North Carolina at Mercedes-Benz stadium. The Tar Heels are a better team. Collins needs to start winning games like this if he plans to turn the program around. I give the advantage to UNC.
The next two games before the bye week are Pitt and at Duke. I think Tech can beat Duke.
After the bye, the next four games are at Virginia, Virginia Tech, at Miami and Boston College. BC and UVA are the games they have a chance in.
The final two games are at Notre Dame and home versus Georgia. These will be blow out loses.
I think GT will improve and win 5 games but they will not become bowl eligible.