Kennesaw State Owls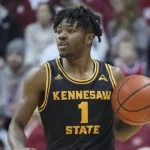 By: Kenneth Harrison
TheSouthernSportsEdition.com news services
The NCAA basketball tournament begins this week. Let's take a look at teams around the Southeast and predict how they will do.
Alabama (29 – 5) is the number one overall seed in the tournament. They are the top seed in the South region. They will play the winner of No. 16 Texas A&M CC and No. 16 SE Missouri State. They will steamroll whoever they face in the first round.
The Crimson Tide have been making headlines off the court, unfortunately. Star freshman small forward Brandon Miller is accused by police of giving now-former teammate Darius Miles the gun that was allegedly used by another man to kill a woman near the school's campus in mid-January, according to multiple news reports.
He's still currently playing but I think the pressure will grow the further they advance. Miller is a projected lottery pick.
The second-round matchup will either be No. 8 Maryland or No. 9 West Virginia. Expect Bama to get to the Sweet Sixteen with ease.
Virginia is the No. 4 team in the region and the first-round game is against No. 13 Furman. They will likely face No. 5 San Diego State in the second round, which will be tough.
Auburn is No. 9 in the Midwest region and they play against No. 8 Iowa. That's a fairly even matchup. If the Tigers win the next round should be against No. 1 Houston.
No. 5 Miami faces No. 12 Drake. Upsets typically occur in the 12 versus 5 seed games so this should be interesting. The Hurricanes are a very solid team so I expect them to advance and play the winner of No. 4 Indiana or No. 13 Kent State. I think Miami has a real shot of getting to the Sweet Sixteen.
Kennesaw State (26 – 8) is the fourteenth seed in the Midwest. The Owls won the Atlantic Sun tournament and made the NCAA Tournament for the first time in school history. They face No. 3 Xavier in Greensboro, North Carolina. As a KSU alum I hope they can pull off the upset.
I think the East is a very interesting region because they have some lower seeds that are dangerous. No. 5 Duke will play No. 12 Oral Roberts in round one. The Blue Devils won the ACC Tournament, beating Virginia in the championship game. They will face the winner of No. 4 Tennessee or No. 13 Louisiana.
I think Duke is a Final Four team loaded with talent. They're led by freshman power forward/center Kyle Filipowski. He's a 7 footer that can handle the ball and he plays hard on both ends.
No. 6 Kentucky plays No. 11 Providence. The Wildcats are led by freshman guard Cason Wallace.
Kentucky recruits well so they have a lot of talent. They have underachieved all season though. If they win, they will more than likely play No. 3 Kansas State in the next round.
No. 8 Memphis (26 – 8) won the AAC Tournament. They upset No. 1 Houston in the championship game. I think the Tigers will beat No. 9 FAU and face No. 1 Purdue next.

By: Jason Bishop
TheSouthernSportsEdition.com news services
National Signing Day has come and gone and the Glynn Academy Red Terrors had 16 kids sign to play at the next level…yes, 16.
Rocky Hidalgo has built a juggernaut in the short three years he has been at Glynn. When you have 16 kids sign to play college football there is no denying.
DeeJay Dallas-Dallas was a Georgia commit until the firing of Mark Richt. Kirby Smart and his coaching staff had other priorities than Dallas, thus driving the Glynn QB to follow Mark Richt to Miami. Georgia will regret not getting this 'do-everything' gifted athlete. Dallas has already enrolled at Mia
Zalon'tae Hillery-Hillery ended up being one of the most sought after offensive lineman in the country. Hillery was thought to be going to Miami all along, until some last-minute indecision. Hillery was strongly considering Kentucky until a phone conversation with Mark Richt eased his indecision and Hillery was back in the Canes fold.
Preston Joseph-Joseph was a Stallworth on the Glynn defense and despite being slightly undersized the Red Terror standout played his way to a Georgia Military College.
Devon Peacock-As the season went on for Glynn, Peacock got better and better. So much so that Georgia State decided to offer him a preferred walk on spot. With Peacock's abilities he will garner a scholarship in Atlanta sooner rather than later.
Xavier McClinton-The one Terror that did not commit on signing day was Xavier McClinton. McClinton got offers from Georgia Tech, Stetson and FAMU.
Quintavius Walker-Good offensive linemen are hard to find. Walker did a great job run blocking all year and protecting DeeJay Dallas at QB. Eastern Arizona took notice and got Walker to commit. This is a steal for Eastern Arizona.
Quandry Mosely-Speaking of steals for Eastern Arizona, here is another. Quandry Mosely is a ball hawking safety that can also play receiver. Mosely is 6'2 and 170 pounds and I think will become one of the better safeties to ever play at Eastern Arizona.
Amari Cross-It is a long-standing tradition at Glynn Academy; if your last name is Cross you are going to play football at Glynn. Amari Cross was no exception and was a pillar for the Terror running attack this season on the offensive line. Kennesaw State took notice and offered Amari Cross a preferred walk on spot. With Cross's size and footwork he will have every opportunity to garner a scholarship for the Owls.
Devin Roberson-Roberson was one of the better pass rushers in the region. Ridgewater College got a huge commitment from Roberson, who has a motor that doesn't stop.
Travis Harris-Harris came on strong as the season progressed and showed his abilities in the secondary. He committed to Ridgewater College.
Shakour Thomas-Thomas was one of DeeJay Dallas's favorite targets at receiver and showed a lot of big play potential. He is one of seven Terrors to commit to Ridgewater College.
Vance Rowe-Rowe was a vastly underrated player for the Terrors. Ridgewater College will certainly look to develop Rowe in the secondary.
Tre Sailem-Sailem was one of the better corners for the Terrors. He has everything you could want in a DB. Another Ridgewater College steal.
Trashawn Bacon-Ridgewater College gets an underrated OL in Trashawn Bacon. Bacon did an amazing job for the Terrors all year.
Jeremiah Anderson-Anderson came back from a serious knee injury this season and was a key contributor running the ball for Glynn. He may be the most talented player that Ridgewater College signed.