Florida Gators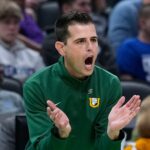 By: Robert Craft
TheSouthernSportsEdition.com news services
One day after San Francisco's season ended against Murray State, news broke that Florida was close to hiring Dons coach Todd Golden as head coach.
Golden worked at Auburn under Bruce Pearl for two years, and Pearl weighed in on Florida's decision to hire him.
Pearl had nothing but good things to say about Golden returning to the SEC. He didn't initially comment on Friday because it wasn't official, but the Gators made the announcement later that day. Pearl could share his full thoughts on his former assistant's big move.
"That's an absolutely grand slam hire by Florida," Pearl said. "Todd Golden is in that next generation of brilliant young coaches. I'm so happy for Todd and his family."
Golden worked under Pearl at Auburn from 2014-16 before heading to San Francisco, first as an assistant from 2017-19 before moving up to the big chair in 2019.
With the Dons, Golden totaled a 57-36 overall record, including a 23-22 mark in West Coast Conference play, and took them to the NCAA Tournament for the first time since 1998 this season.
Murray State defeated San Francisco 92-87 in overtime in the Round of 64. The next day, Florida announced Golden would replace Mike White, who became the new head coach at Georgia.
Golden brings multiple years of SEC experience from 2014 through 2016 under Bruce Pearl. He worked at Columbia as an assistant before then from 2012-2014, then became an assistant at San Francisco from 2017-2019 under current Washington State coach Kyle Smith. Golden moved up to head coach in 2019 after that move.
He led San Francisco to the NCAA Tournament this season with an at-large bid and reports suggest he opened negotiations with Florida early in the week and things moved quickly after his team's elimination.
After Golden was officially announced as the new basketball coach at Florida, he released a statement on social media.
"I'm energized by the opportunity to lead an elite program at Florida, and I'm ready to get started," said Golden. "Florida has a championship-level athletic department, university and men's basketball program, and I embrace the standard of excellence at Florida and the passion of Gator Nation. We couldn't be more excited about what the future holds in Gainesville."
In hiring Golden, Florida athletic director Scott Stricklin has acquired yet another coach from the lower levels to lead a high-profile program. In December, Stricklin hired away Louisiana's Billy Napier to lead its football program.
Sources in recent weeks told CBS Sports that Stricklin wasn't concerned with bringing in a big name from a power conference; he was focused on hiring the best fit and in fact, Strickland wanted to hire young.
Golden played collegiately at Saint Mary's College in Moraga, Calif., where he helped the Gaels to two NCAA Tournament appearances.
As a senior point guard, he ranked second in the nation with a 3.68 assists-to-turnovers ratio and led the West Coast Conference with a .574 3-point field goal percentage.
He was also lone captain of Saint Mary's 2007-08 team. Golden finished his career as the Gaels' all-time leader in free-throw percentage (.852) and eighth in assists with 269.
Golden also acknowledged that college basketball has drastically changed in recent years, saying he can't wait to get started recruiting in the transfer portal.
Can Golden get the Gators back to the NCAA Tournament in 2023? We'll see what his first roster in Gainesville looks like this coming season.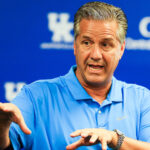 By: JJ Lanier
TheSouthernSportsEdition.com news services
Since John Calipari arrived in Lexington almost twelve years ago, Kentucky has dominated the SEC.
Over that period of time, in conference play, the Wildcats have won six regular season and conference tournament titles, while finishing in either first or second place in every season but one.
Kentucky has essentially been operating at the level of Disney and the rest of the SEC has been Six Flags.
Still, even when you've been as dominant as the Wildcats have been there is usually a season mixed in there somewhere, when other teams are able to get their shots in- last year's UNC season comes to mind.
Could this be the year the tables are turned?
The one team that automatically comes to mind that's in the best position is Tennessee.
The Vols are probably the league's most completely team, with a nice mix of experience, talent, and coaching.
They have played the second toughest schedule of anyone in the SEC (Kentucky's has been the most difficult, by far) and they have been the most impressive doing it.
The only thing I worry about, and I realize I'm contradicting myself a bit here, is I just don't trust Rick Barnes.
Yes, I think he's a good coach, his teams just tend to fall short when they're the leaders. In a weird way I would actually feel better about their chances if Kentucky were playing at a higher level.
Teams like Arkansas, Missouri, Auburn, and LSU could certainly let wind up at the top of conference if Tennessee were to falter, but there are still too many questions about each for me to feel comfortable separating any one of those from the pack.
I think some of the other teams (Georgia, LSU, Texas A&M) will certainly have a shot at some upset wins, I just don't think they'll be able to compete for a shot at the top spot.
Florida is the one wild card in this whole thing. After witnessing Keyontae Johnson collapse on the court and then the aftermath of that event, you can't predict how they're going to react.
And just to be clear, these are a bunch of teenage kids who saw a teammate and friend collapse in front of them, so however they respond on the court is really inconsequential.
Of course, this topic is only relevant because Kentucky is off to their worst start in over a hundred years. An optimistic fan will argue the team has played the most difficult schedule in the country and their young players will mature and grow over the course of the season.
Everyone else will counter with the fact Kentucky still lost those games and those young players have more than likely never faced this kind adversity that is currently staring them in the face.
We should have a good idea who may be on the right path after the first few games, since Kentucky begins their conference schedule against some of the league's weaker teams.
Even though we knew this season was going to be different for all the obvious reasons, I think most still felt like Kentucky was the team to beat and most everyone else was playing for second place.
With Kentucky's early struggles it feels as if a number of teams have an opportunity to feel what it's like to be the top dog.
Don't get me wrong, going to Six Flags can be great, but it's Disney that most everyone is after.