Is Todd Golden A Good Hire For Florida Gators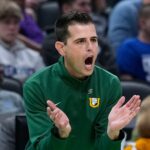 By: Robert Craft
TheSouthernSportsEdition.com news services
One day after San Francisco's season ended against Murray State, news broke that Florida was close to hiring Dons coach Todd Golden as head coach.
Golden worked at Auburn under Bruce Pearl for two years, and Pearl weighed in on Florida's decision to hire him.
Pearl had nothing but good things to say about Golden returning to the SEC. He didn't initially comment on Friday because it wasn't official, but the Gators made the announcement later that day. Pearl could share his full thoughts on his former assistant's big move.
"That's an absolutely grand slam hire by Florida," Pearl said. "Todd Golden is in that next generation of brilliant young coaches. I'm so happy for Todd and his family."
Golden worked under Pearl at Auburn from 2014-16 before heading to San Francisco, first as an assistant from 2017-19 before moving up to the big chair in 2019.
With the Dons, Golden totaled a 57-36 overall record, including a 23-22 mark in West Coast Conference play, and took them to the NCAA Tournament for the first time since 1998 this season.
Murray State defeated San Francisco 92-87 in overtime in the Round of 64. The next day, Florida announced Golden would replace Mike White, who became the new head coach at Georgia.
Golden brings multiple years of SEC experience from 2014 through 2016 under Bruce Pearl. He worked at Columbia as an assistant before then from 2012-2014, then became an assistant at San Francisco from 2017-2019 under current Washington State coach Kyle Smith. Golden moved up to head coach in 2019 after that move.
He led San Francisco to the NCAA Tournament this season with an at-large bid and reports suggest he opened negotiations with Florida early in the week and things moved quickly after his team's elimination.
After Golden was officially announced as the new basketball coach at Florida, he released a statement on social media.
"I'm energized by the opportunity to lead an elite program at Florida, and I'm ready to get started," said Golden. "Florida has a championship-level athletic department, university and men's basketball program, and I embrace the standard of excellence at Florida and the passion of Gator Nation. We couldn't be more excited about what the future holds in Gainesville."
In hiring Golden, Florida athletic director Scott Stricklin has acquired yet another coach from the lower levels to lead a high-profile program. In December, Stricklin hired away Louisiana's Billy Napier to lead its football program.
Sources in recent weeks told CBS Sports that Stricklin wasn't concerned with bringing in a big name from a power conference; he was focused on hiring the best fit and in fact, Strickland wanted to hire young.
Golden played collegiately at Saint Mary's College in Moraga, Calif., where he helped the Gaels to two NCAA Tournament appearances.
As a senior point guard, he ranked second in the nation with a 3.68 assists-to-turnovers ratio and led the West Coast Conference with a .574 3-point field goal percentage.
He was also lone captain of Saint Mary's 2007-08 team. Golden finished his career as the Gaels' all-time leader in free-throw percentage (.852) and eighth in assists with 269.
Golden also acknowledged that college basketball has drastically changed in recent years, saying he can't wait to get started recruiting in the transfer portal.
Can Golden get the Gators back to the NCAA Tournament in 2023? We'll see what his first roster in Gainesville looks like this coming season.