Bill O'Brien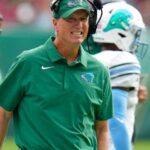 By: Kenneth Harrison
TheSouthernSportsEdition.com news services
Georgia Tech fired head coach Geoff Collins after starting the season 1 – 3. Collins never won back-to-back games at Georgia Tech. He was outscored 210-20 over the final 5 games of his tenure against FBS opponents.
Offensive line coach and run game coordinator Brent Key filled in as interim head coach.
Key went 4 – 4 and led the Yellow Jackets to some upset wins. They beat #24 Pitt and #13 North Carolina. He has interviewed for the position but I don't believe Tech is going hire him.
Athletic director, Todd Stansbury was also fired with Collins. J Batt was hired as the new AD after working at Alabama for five years as its executive deputy AD, chief operating officer and chief revenue officer. He's also made stops at East Carolina as the senior associate athletics director and at Maryland as the associate AD.
We are going to take a look at the finalists for the position. Bill O'Brien is one of the names that has been mentioned. The 53-year-old was an assistant for the New England Patriots from 2007 to 2011. He also replaced Joe Paterno as head coach at Penn State from 2012-13. O'Brien became the head coach of the Houston Texans in 2014 and stayed until 2020.
He was hired as the offensive coordinator at Alabama in 2021. He helped the Crimson Tide to a Southeastern Conference Championship in 2021 while assisting Nick Saban in crowning his first Heisman Trophy-winning quarterback (Bryce Young). O'Brien coached Alabama's offense to 40.8 points per game this season.
Tulane head coach Willie Fritz is also one of the four coaches interviewed for the position. He led the Green Wave to a 10 – 2 record and they are ranked No. 18 in the nation. He's been at Tulane since 2016 and his overall record is 41 -45.
Fritz met with the media today ahead of Tulane's conference championship matchup and he was asked about the reports that have linked him to the Georgia Tech head coaching job. Here is what Fritz had to say:
"I talked to the team about it and obviously the initial report gets more traction than the secondary report but I am the head football coach of Tulane, I am extremely proud to be the head coach at Tulane and we are looking forward to the ballgame on Saturday and that is what I told our guys when I visited with them this morning. So… I don't want to talk about those kinds of things, I want to talk about the ballgame."
Tulane plays UCF in the AAC Championship Game this weekend and the winner of that game is likely heading to represent the group of five conferences in the New Year's Six Bowl Game, which would be the Cotton Bowl this season.
Fritz was the HC at Georgia Southern in 2014-15 and led the Eagles to a 17 – 7 record. This stop also means he has experience recruiting in the state of Georgia.
Coastal Carolina head ball coach Jamey Chadwell is also in consideration for the job. He has led the Chanticleers to a 39 – 21 record since taking over in 2017.
Georgia Tech has to hire a good coach that can make the program relevant again.