What Florida Gators Will Head To The NFL Draft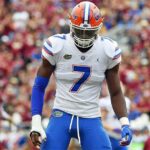 By: Robert Craft
TheSouthernSportsEdition.com news services
The Florida Gators had to make an offseason change from Dan Mullen to Billy Napier as their new head coach, but that does not mean there were no stars on the team in 2021.
A handful of Florida Gators received NFL Scouting Combine invitations ahead of the 2022 NFL Draft. This is an opportunity for these players to increase their stock.
Florida saw four of its players invited this season, but each had quality ends to their college careers and definitely drew the eyes of NFL scouts.
Here's a breakdown of each Florida Gator invited to the 2022 NFL Scouting Combine:
Zach Carter: Carter can play inside and outside along the defensive line, which should be attractive to NFL teams.
He opted out of the Gasparilla Bowl to prepare for the draft. Carter is likely to play more defensive end at the next level, but his versatility showed he can do both, should a team want to move him back inside.
The NFL Scouting Combine will definitely be an opportunity to show off his athleticism and running through certain drills could show he is able to play multiple positions for an NFL team looking for a versatile lineman.
Last season, Carter had the best season of his college career, finishing with 31 total tackles, 15 solo tackles, 11.5 tackles for loss, 7.5 sacks, two pass deflections and one forced fumble.
In his career, Carter had 102 total tackles, 39 solo tackles, 26 tackles for loss, 17 sacks, eight pass deflections, one fumble recovery, two forced fumbles and one touchdown.
Carter is currently projected as a late 3rd early 4th round pick.
Kaiir Elam: Elam left school early to head to the pros. That was for good reason after a productive career with the Gators.
Elam received some first-round NFL Draft buzz. He's not a lock for the one of the first 32 picks, but he is a high-quality prospect coming into the pros.
The NFL Scouting Combine usually propels a handful of prospects to higher positioning and that could very well be the case with Elam as well. Elam made a quick impact on Florida when he started playing as a true freshman and kept it rolling over three seasons.
Elam played three seasons for the Gators, having another productive year in 2021, as he had 29 total tackles, 17 solo tackles, 1.5 tackles for loss, one interception and five pass deflections. In his career, Elam had 78 total tackles, 53 solo tackles, 2.5 tackles for loss, five interceptions, 20 pass deflections and one fumble recovery.
Elam should be the first Gator selected.
Jeremiah Moon: Moon had a productive year to conclude his college career and ended up at the Reese's Senior Bowl to showcase his talent to NFL scouts up close.
Now that he is headed to the NFL Scouting Combine, he can showcase his abilities once again.
Moon was an EDGE defender before transitioning to linebacker due to injuries. But Moon appeared to provide a physicality to the position that the Gators needed. He has the ability to play the EDGE or linebacker spots, which should be intriguing to NFL teams.
He took advantage of a sixth year eligibility after the free year of 2020. He finished 2021 with a solid stat line: 49 total tackles, 20 solo tackles, 3.5 tackles for loss, two sacks, one pass deflection and one forced fumble.
He finished his Gators career with 151 total tackles, 60 solo tackles, 14 tackles for loss, eight sacks, four pass deflections, two fumble recoveries and one forced fumble. Moon is a late day three selection or free agent.
Dameon Pierce: Pierce could be a steal in the NFL Draft when April comes around. He was actually tabbed as the top running back from the 2022 Reese's Senior Bowl by CBS Sports.
With that type of performance, there should be a lot of eyes on Pierce throughout the combine as he showcases his speed and agility.
What also helps Pierce, in addition to him carrying and catching the football, he can pass block very effectively. NFL teams will love that in a young prospect. Pierce is very powerful and has a low center of gravity.
He had a career-year finding the end zone in 2021. He finished the season with 100 carries, 574 yards, 13 touchdowns, 5.7 yards per carry, 19 catches, 216 receiving yards and three receiving touchdowns.
He finished his Gators career with 329 carries for 1,806 yards, 23 touchdowns. 5.5 yards per carry, 45 catches, 422 receiving yards and five receiving touchdowns.
Pierce is projected a late 3rd early 4th round selection.