A Tribute To George Rose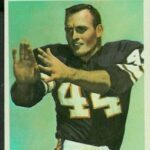 By: Joe Delaney
TheSouthernSportsEdition.com news services
It's been an incredible time of ups and downs recently.
This world has lost some fine people; Vince Dooley, Charley Trippi, Mike Leach, Devin Willock, and Chandler LeCroy all in just the last 3 months. Just a crazy time.
But to me, this one hurt worse than anything. We recently lost the great George Rose.
Not only was he one of the top athletes to come out of South Georgia EVER, but he was one of the nicest and most genuine people you would ever want to meet.
Throughout our latter time together whenever we saw each other it was………." Hey Coach!!!!!"  "Hey Joe!! How's Kim doing?" The guy was just solid gold.
When I learned of his passing it brought tears to my eyes. He was my coach but through everything he was my friend.
If you know anything about Glynn Academy Red Terror football, then you know who George Rose was. I'm not going to list everything here that he accomplished as a player at Glynn, Auburn and the NFL. It would take up the whole column and more.
Just a few superlatives were, he was a team captain at Glynn, and Auburn. He was the 34th overall pick in the NFL draft and played for Minnesota, New Orleans and San Francisco. He gave up ONE pass completion in his senior year at Auburn as a defensive back, ONE! He was that damn good and just purely fast as hell.
After the pros he came back to Glynn County and coached the Red Terrors during my senior year. I played QB that year for the first time and the truth be told I was pretty good and terrible. George got handed a mediocre bunch of Jimmys and Joes with a few good players sprinkled in that year.
But we worked hard and had a lot of fun. I remember one day at the end of practice we were doing extra passing drills and were all needling coach about playing DB and got him to go over and cover a couple of guys.
We were all laughing and having a good time and I went over to the receivers' line and got lined up with George and he started laughing. I said come on Coach I'm gonna burn you! Well, I looked over at Coach Hudson, who was throwing and nodded my head. Coach Hudson goes "HUT ONE" and I take off……. huh wait a second……. I take one step and all of a sudden, I'm looking at the sky on my back. I don't think they called it bump and run back then but I guess I'd call it bump and dump because I didn't run anywhere!
Next thing I know George is looking down at me laughing, Coach Hudson is about to fall out laughing and next thing you know I'm laughing with everyone else.
I'd love to say we won all the close games and had a great year, but we didn't. But what we did do was get better. Our last game of the year was against Brunswick High and they were the sub region champs and everyone from Murray Poole to my 12-year-old little brother said they were going to beat the snot out of us. And probably badly.
Well, between George, Marvin Hurst, Herman Hudson and the other coaches, they got us ready.
We beat the Pirates 26-21 at old Lanier Field in front of a standing room only crowd, coming from behind in the fourth quarter. We were the city champs.
After the game I went over to George and hugged him and told him thanks for everything he had done for us that year. He looked me straight in the eyes, smiled and said "Joe you played your best game tonight." I'll never forget that……. It brought tears to my eyes then……….and it brings tears to my eyes now.
God bless you coach, War Damn Eagle! Rest easy.