Brunswick High Pirates Ka'Shawn Thomas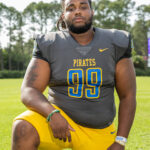 By: Kipp Branch
TheSouthernSportsEdition.com news services
Ka' Shawn Thomas should be the Region 2-AAAAAA defensive player of the year. No other player in this area has had a bigger impact on that side of the ball than Thomas has had.
The 300-pound senior finished his Pirate career with that heartbreaking 29-28 OT loss to Houston County. Thomas has been the ringleader of a senior class that won 35 football games and 3 region championships.
When you mention the name Ka' Shawn Thomas to his head coach Garrett Grady you get the following "Ka' Shawn has been an outstanding football player for us for four years. He is our leader on defense. When things get tough the other kids look to him for leadership and he makes things happen on the football field. He can dominate the line of scrimmage and make teams struggle in the run game. He is also a great pass rusher, and he caves in the pocket in the passing game. You don't see many kids like him that come through high school programs. He will be missed around here and will be a productive college player at Wake Forest both on the field and in the classroom. He has set the standard around here for defensive linemen moving forward".
Thomas could end up on some All-State teams after the current high school season concludes and will most definitely be an all-region player in 2022.
Thomas committed to Wake Forest back in March. He was the top player on the Wake Forest board and was the first player committed in their 2023 recruiting class.
Wake will be getting a young man with a great motor, quick first step, and at 300 pounds a man who can command double teams from an opposing offensive line. Wake Forest is a program that is on the rise and is very competitive in the Atlantic Coast Conference.
Ka' Shawn comes from a great family, and he would probably tell you his favorite person and role model is his mother, Tashana.
Tashana is one of the nicest people I have ever met, and she has an amazing personality and when momma talks Ka' Shawn listens. She has raised a solid young man that is going to be a success in life long after his football career is over. His mother and family have instilled a great foundation in Ka' Shawn.
Ka' Shawn leaves a great legacy at Brunswick High School. He will be mentioned as one of the all-time greatest players to ever come through the school. I personally believe that he is one of the top ten players that BHS has ever produced.
It has been a privilege to broadcast Ka' Shawn for his entire BHS career on Pirate Radio. He has been a great ambassador for the program and a 'yes sir', 'no sir' kind of young man that always greets you with a firm handshake and the upmost of respect.
I know Ka' Shawn is going to have a fine college career at Wake Forest, and possibly in 4-5 years you could hear his name called by an NFL in a future NFL draft. I know this the young man will be missed on Altama Avenue.
I will leave you with one final comment that I firmly believe. Ka' Shawn Thomas is the best defensive lineman to ever play at Brunswick High School. I have seen many kids come through the program since I went to my first Pirate football game in 1974 and I can't think of one better at his position than Ka' Shawn.