Clemson Tigers 2022 Preview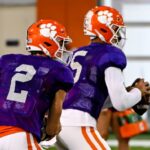 By: Joe Delaney
TheSouthernSportsEdition.com news services
Well, it looks like these Tigers are going to have to rebound this year and we ain't talkin' basketball.
After a lackluster 2021 season that saw these Tigers slide out of the national picture and into ACC oblivion, these guys definitely have something to prove.
After an opening game loss to the eventual National Champion Georgia Bulldogs, the Tigers let two games slip away in the ACC and finished with 10-3 record.
While most programs would be happy with double digit wins. Most programs ain't Dabo Swinney's Clemson Tigers.
Injuries and poor production at quarterback were the main reasons for the letdown. You can have 5 stars next to your name but if you throw more INTERCEPTIONS than TDs over the season with a schedule that includes South Carolina State and Connecticut then you're not cutting it at Clemson.
DJ Uiagalelei came to Clemson as one of the most heralded QBs in the country. Last year his QB rating was in the toilet and he passed for an average of 172.8 yards per game with a 55.6% completion rate. Add in 9 touchdown passes for the whole year and well, you get the idea.
So, what do you do when your 5-star struggles? Well, Dabo just went and got another 5 star in Cade Klubnik out of Texas.
Klubnik is one of the top players in the country, Cade may be playing a little earlier than expected if DJ doesn't cut the mustard starting against the Yellow Jackets in Atlanta in game one. Klubnik competed in the spring and may give DJ a run for his money. QB play will again determine how the Tigers finish nationally.
If the QB play can step up the offense could be very good. Running back Will Shipley leads a talented backfield that has speed and depth. Expect to see Shipley on Sundays in a couple of years.
The receivers are solid with Joseph Ngata and EJ Williams, although depth could be an issue there.
The offensive line should be much improved with four returning starters. Once again this should be a fine offensive team but the key is going to be the QB play.
On the defensive side of the ball then Tigers will be flat loaded again. Wanna know who Clemson's defensive line reminds me of this year? Georgia's from last year!
The trio of Myles Murphy, Bryan Bresee, and Xavier Thomas are all studs and will be playing on Sunday.
KJ Henry and Tyler Davis aren't far behind. This is one of the top front fours in all of college football.
The LB's will be young and very talented with Trenton Simpson leading the way.
The DB's will be steady at FS and SS while both corners will have to be replaced. This defense could be one of Clemson's best and that's saying a lot.
The defensive front should give the new LB's and Corners some time to grow and by the time the Tigers roll into Touchdown Jesus territory in early November, these guys could be scary.
On special teams BT Potter returns at PK and should also handle kickoffs and punts. He will be a busy man.
The Tigers and Dabo Swinney have built a juggernaut and just aren't used to losing three games in a season.
Now, the defensive and offensive coordinators have to be replaced and there are some questions about how that will affect the team.  Still this team is loaded with talent.
The schedule is tough with the usual ACC teams and a trip to Notre Dame and a resurgent South Carolina in Death Valley.
If the tigers can roll into South Bend undefeated, we will know that the QB issue is A-OK and these big bad cats have clawed their way back.
Should be a very entertaining year for the Tigers, one way or the other!