Doug Pederson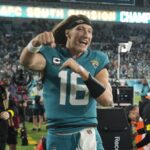 By: Kipp Branch
TheSouthernSportsEdition.com news services
The Jacksonville Jaguars in a relatively short period of time have become an AFC Title contender.
In 2022 the Jags won a playoff game over the Chargers and lost a close divisional playoff to Kansas City on the road. KC went on to win the Super Bowl. The Jaguars won the AFC South in 2022.
Looking ahead to the upcoming 2023 season outside of Jacksonville it looks like a total rebuild for the AFC South.
Tennessee looks to be at a crossroads with age creeping in on a roster that folded down the stretch in 2022. QB is an issue for the Titans so they went out and drafted Will Levis from Kentucky. Well, Levis is no Trevor Lawrence and all Jaguar fans saw the struggle in Lawrence's rookie season.
Houston has hired a new head coach and drafted C.J. Stroud at QB from Ohio State with the second overall pick.
They addressed the pass rush in trading back up into the top five and taking Will Anderson from Alabama.
This roster still needs a lot of work. Houston is still a couple of years away from competing for an AFC South Championship.
Indianapolis drafted the athletic ability of Anthony Richardson out of Florida as their future QB with the fourth overall selection in the first round.
Can Richardson's gifted skill set be more effective in the NFL? He could wow you with great plays at Florida but that did not translate into winning big games or games in general.
With all three teams in your division drafting quarterbacks for the future then Jacksonville should be a heavy favorite in the AFC South, correct?
In the April draft Jacksonville was very active in the draft in trading down for additional picks. Most NFL draft experts graded Jacksonville in the B range overall, so the roster has improved. Look at the first four picks Jacksonville made all at position of need on their roster:
Round 1, Pick 27 (From BUF)
Anton Harrison, OT, Oklahoma: The Jaguars went into protect the franchise mode and drafted Harrison. Offensive line is a position of need for the team, and it got addressed in the first round.
Round 2, Pick 61 (From CHI via SF via CAR)
Brenton Strange, TE, Penn State: TE is also a position of need for the team that got addressed in the early rounds.
Round 3, Pick 88
Tank Bigsby, RB, Auburn: I think Bigsby is one of the steals of this draft. Tank played on some bad Auburn teams in his three years on The Plains but was the SEC Freshman of the year in 2020. Now paired with Travis Etienne in the Jaguars backfield gives the offense another weapon.
Round 4, Pick 121 (From TB)
Ventrell Miller, LB, Florida: Miller was a bright spot on a bad defense at UF. This kid is productive and fills a need at the position.
If you look at the Jaguars offense you see:
QB: Trevor Lawrence: Lawrence is a top ten QB in the NFL and will continue to rise in those rankings.
WR: Calvin Ridley joins a dynamic group of WR's.
RB: Etienne and Bigsby. This will be a dynamic pair of backs.
OL: Addressed in 2023 draft.
On defense the team has built this unit through the draft, and it can be a championship caliber unit.
Doug Pederson is an elite head coach roaming the sidelines in Jacksonville. He has this team in position to compete for a championship.
The schedule is tough. Two back-to-back games in London with the Falcons and Bills.
The home schedule is the best in years with Kansas City, Cincinnati, San Francisco, and Baltimore all coming to the River City.
I see this team winning 12-13 games in 2023. Get your season tickets Jaguar fans this will be a fun season. The Jacksonville Jaguars are AFC title contenders in 2023.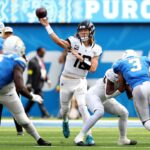 By: Jeff Doke
TheSouthernSportsEdition.com news services
If you had told me a year ago that the Jacksonville Jaguars would be two games away from the Super Bowl, I would have laughed.
Heartily. Out loud, full body laughter.
After the Urban Meyer era (or should we say "error") of Jacksonville football, Jaguar nation was particularly disheartened…and that's saying something, considering the soul-sucking levels of angst & frustration this fan base has had to endure since the Titans went 3-0 against us while we were undefeated against the rest of the league back in 1999.
From the barstool boogie incident to the disgraceful treatment of a beloved kicker, Coach Meyer proved above and beyond that he was 100% not ready for prime time. My OSU friends warned me. Oh, how I hoped they were wrong.
Spoiler alert; they weren't.
The performance of rookie signal caller Trevor Lawrence didn't help the cause. Heralded as a generational talent coming out of Clemson, his less-than-lackluster performance had more than one prognosticator questioning whether everyone was wrong about "Sunshine."
Then came the long, drawn-out offseason. The seemingly unending wait for a replacement head coach, the cries of the Jaguars faithful to hire Teal & Black alum Byron Leftwich away from the Buccaneers, the in-the-moment questionable free-agent signings of Christian Kirk, Zayn Jones, and Even Engram.
All of these had many in the Jaguars fanbase to call for GM Trent Baalke's head on a platter, and saw dozens – nay, hundreds – of Twitter profiles change their picture to the clown emoji sporting the distinctive Shad Khan handlebar moustache.
And yes, mine was one of them.
My, my, my, how the tables have turned.
Enter Doug Pederson. A head coach with not only pro experience but a Lombardi Trophy on his resume.
While the hire was not as flashy as what the Leftwich hire would have been, it's obvious in hindsight how the results were superior.
Pederson brought the Jags their second winning season and playoff appearance in the last 15 years.
He coached the team to a six-game win streak to end the season, including an instantly canonized come-from-behind victory over the San Diego – I mean Los Angeles Falcons – I mean Chargers.
Trevor Lawrence showed not only flashes, but blindingly bright moments that showed that yes, Baalke made the right decision in drafting him. Kirk, Zayn, and Engram proved to be extraordinarily productive weapons, and Travis Etienne got the bounce back sophomore season we all hoped was in store.
The much-discussed selection of UGA's Travon Walker as the team's second straight #1 overall pick got some sideways looks, and while his performance has been…shall we say "unpolished" at times this year, it's easy to see why he and Josh Allen (no, not *that* Josh Allen) will be cornerstones of the "Jacksvillians" defense for years to come.
Then there's the trade deadline acquisition of suspended WR Calvin Ridley. If he's even a shadow of the player he was before the suspension (which came, ironically enough, for betting *against* the Jags), he will go down as an all-time free agent steal. That's some next-level management right there by any metric.
I made it official earlier, but I'll reiterate it here; I hereby formally apologize for doubting Trent Baalke.
Byron Leftwich, on the other hand, was fired.
For once, Jaguar fans can say they dodged a bullet, and aren't dismissed as delusional when we say "just wait til next year."